Michael Stipe has slammed Republican Presidential candidate Donald Trump for using R.E.M.'s song It's The End of The World as We Know It (And I Feel Fine) at a rally at the White House yesterday. 
Trump took to the podium at a Tea Party event to condemn President Barack Obama's plan for a nuclear deal with Iran as the song, which was a breakout single from the band's breakthrough 1987 album Document, played in the background.   
Last night Stipe said: "Go f*** yourselves, the lot of you - you sad, attention-grabbing, power-hungry little men. Do not use our music or my voice for your moronic charade of a campaign".
Stipe also warned other politicians from using R.E.M. songs during their campaign trails. In a separate tweet, R.E.M. bass player Mike Mills said he was reluctant to condemn Trump because he feared giving him more publicity.
Mills tweeted: "Personally, I think the Orange Clown will do anything for attention. I hate giving it to him.
In a general statement reiterating their opposition to any of their music being used by politicians, R.E.M. said: "While we do not authorize or condone the use of our music at this political event, and do ask that these candidates cease and desist from doing so, let us remember that there are things of greater importance at stake here. 
"The American voter should focus on the bigger picture, and not allow grandstanding politicians to distract us from the pressing issues of the day and of the current Presidential campaign."
Frankie Sullivan, the co-founder of Survivor, has also condemned the use of his band's 1982 hit The Eye of the Tiger by Presidential hopeful Mike Huckabee as Kim Davis, the Kentucky clerk who refused to grant same sex marriage certs, was freed from prison on Tuesday.
Sullivan said: "NO! We did not grant Kim Davis any rights to use 'My Tune -The Eye Of The Tiger.' I would not grant her the rights to use Charmin! C'mom Mike, you are not The Donald but you can do better than that."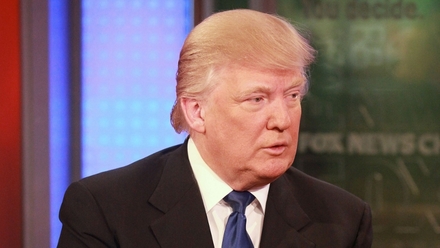 Trump: World leader pretend 
...moronic charade of a campaign."--Michael Stipe

— Mike Mills (@m_millsey) September 9, 2015