Terry Gilliam has responded to a recent news story on the website of American showbiz journal Variety incorrectly claiming that the film director and former Monty Python member had died.
In typical Gilliam fashion, his reaction has been to both confirm and apologise for his demise.
The 74-year-old took to Facebook in response to Tuesday's errant article and excused himself for the massive inconvenience of his passing.
"I APOLOGISE FOR BEING DEAD especially to those who have already bought tickets to the upcoming talks, but, Variety has announced my demise," Gilliam wrote on Facebook. "Don't believe their retraction and apology!"
The post also featured a Photoshopped picture of the Oscar-nominated director on his death bed, with a sign reading: "He was only 30! Bad reviews from Variety aged him!"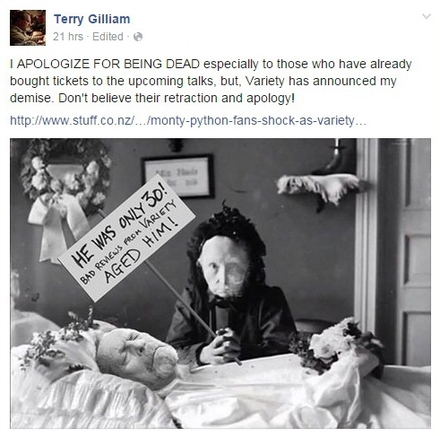 Thankfully the matter is now all cleared up. He wasn't dead, only resting.