It's a Beautiful Day for U2 fans in Ireland after the band put an end to rumours and speculation and confirmed they will play in both Dublin and Belfast this November.
It's been a saga of will they, won't they, for the past number of weeks and due to the sheer scale of their iNNOCENCE + eXPERIENCE tour, there was a real danger U2 where not going to play any live shows in Ireland this year.
Over the weekend The Edge addressed the speculation and assured fans they were doing everything in their power to take their world tour to Ireland and insisted it would be a "huge disappointment" if it did not happen.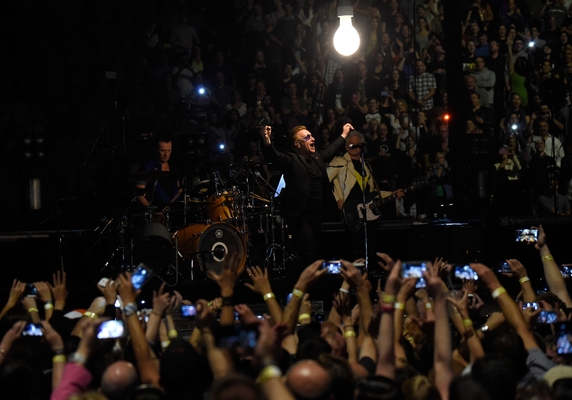 U2 on stage in Vancouver
They band have been very vocal that their iNNOCENCE + eXPERIENCE tour is only suitable for particular types of venues which gave fear to fans that it would not fit in any indoor arena south of the Irish border.
The Edge added: "This show is designed for a type of venue and unfortunately there isn't one, certainly in the south. I think there might be one in the Belfast area, so we're looking at that as well.
"But you can't invent a venue. It's either there or it isn't. So, we're doing a lot of head-scratching right now to see if we can figure out something."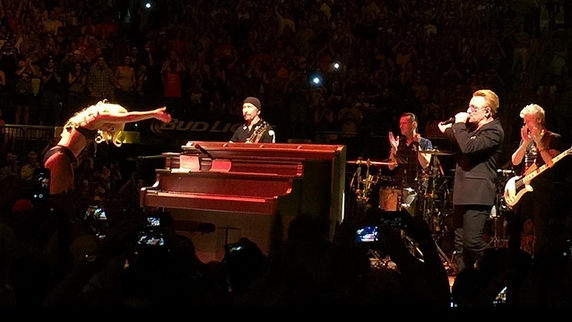 U2 on stage with Lady Gaga in New York
But now it seems all logistical and staging issues have been surmounted and Bono, The Edge, Larry Mullen and Adam Clayton will take to the stage in Dublin and Belfast this coming November.
The band will play in the SSE Arena in Belfast on 18 and 19 November before four nights at the 3Arena in Dublin on the 23, 24, 27 and 28 November.
The band has announced that €2,000,000 from the concerts will go to Music Generation, Ireland's national music education programme.
Its director, Rosaleen Molloy, said: "Music Generation would not exist without U2's vision. It was the band's very own personal experience of music education as children and teenagers that has driven their commitment to kick-start this ground breaking project."
"We are extremely grateful to the band for their continued support of children and young people's access to music education in Ireland and we welcome this announcement with enthusiasm and excitement."
Tickets for the shows go on sale at 9am on Monday, September 14 and will be limited to two per purchaser. They are priced at from £30 to £165 for Belfast, and from €30 to €185 for Dublin.

Tickets can be bought at the 3Arena and SSE Arena box offices and online.
Some photos from the first AMS show #U2ieTour pic.twitter.com/wZD59XBSeS

— U2gigs (@u2gigs) September 8, 2015
As #U2ieTour comes to Europe Bono goes all O'Connell Street & channels his inner Anna Livia as Edge solos away! @U2 https://t.co/tHWGXgF8ln

— RTÉ TEN (@RTE_TEN) September 5, 2015

A salute from @U2 to the Northside, the Irish Mammy & Mammies everywhere as #U2ieTour begins in Turin. https://t.co/yBQc4aD2Qs

— RTÉ TEN (@RTE_TEN) September 5, 2015

Now here's how you make an entrance. #Bono takes to the stage at start of @U2's tour in Turin. #U2ieTour https://t.co/WRvJOnfOvo

— RTÉ TEN (@RTE_TEN) September 5, 2015

Just back from the Ziggo Dome Amsterdam's really insanely good #U2ietour concert! Magnificent pic.twitter.com/kt8o5xSg5R
— Gerard van Veen (@Gerardo1301) September 8, 2015
Had a great night @u2. #u2ietour @ Ziggo Dome https://t.co/o6BFP5ktU2

— Elmar Beckmann (@surrelmar) September 9, 2015
Wow yesterday @u2 @ #ziggo #amsterdam was intense! Different but great thanks for another great concert #U2ieTour pic.twitter.com/51ugj5N3Cg

— Sylvia (@Sygo77) September 9, 2015
What a night at Ziggo Dome - here's The Edge right in front of me - stunning show! #U2ietour #u2amsterdam @u2 pic.twitter.com/VCfx1CZeN8

— Louie Bromley (@louie1401) September 9, 2015
These guys played a perfect setlist tonight 😍 #u2ietour #u2 @ Ziggo Dome https://t.co/76WKi8XyDR

— Paulien [Lien] (@ringlunatic) September 8, 2015
Audience singing Every Breaking Wave almost louder than the PA in Turin #U2ieTour

— atu2 (@atu2) September 4, 2015