Jack Whitehall has poked fun at his A League of Their Own co-star Jamie Redknapp saying that he might have to explain some of the jokes in The Bad Education Movie to him.
Whitehall often makes jokes about Jamie's intellect on the James Corden-hosted sports panel show and when asked if the A League of Their Own lads would be coming out to support his big screen endeavour, he told TEN, "Jamie will actually really like the film, because it's aimed at 14 to 17-year-olds, which is just his level... There'll be a few [jokes] we'll have to explain."
Jack Whitehall has said he'll have to explain a few #BadEducation jokes to #ALOTO's Redknapp http://t.co/ul0a91OVBB https://t.co/K5tkqT2WTf

— RTÉ TEN (@RTE_TEN) August 19, 2015
Whitehall also said that The Bad Education Movie will appeal to both fans and newcomers to the hit series.
"We've really ramped it up from the TV show and it really stands alone. If you haven't seen the TV series I don't think it matters," he said.
Iain Glen, who plays Jorah Mormont on Game of Thrones, is among the film's guest stars, and Whitehall told us what it was like to go up against him in a sword fight. 
"We've got the amazing Iain Glen from Game of Thrones; he plays the villain and he's pretty terrifying. In fact, there's a big sword fight that I have with him and he's a very, very good sword-fighter. I think he's done a lot of training whilst he was working on Game of Thrones, so yeah, he was quite vicious with a sword."
Watch TEN's full interview below.
Whitehall also said it would be "amazing" to have Conor McGregor appear on A League of Their Own, but he would be apprehensive about going head-to-head with the UFC Interim Featherweight Champion in a challenge.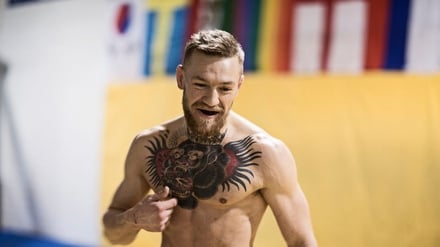 Conor McGregor
But when asked if he would go up against McGregor in a sporting challenge, Whitehall had second thoughts and suggested another activity they could try out instead. Watch the short clip below to hear what he had to say.
The legend that is @jackwhitehall told TEN he would love @TheNotoriousMMA on @ALOTO #ALeagueOfTheirOwn https://t.co/C8YoOtOTg3

— RTÉ TEN (@RTE_TEN) August 17, 2015
The Bad Education Movie is in cinemas from Friday, August 21.