Miley Cyrus has criticised Taylor Swift's Bad Blood music video for its use of violence.
The music video sees Swift go head-to-head with her arch-enemy, played by her close friend Selena Gomez, and a number of her other famous pals also make appearances in what really is a who's who of Tay's best friends. The song is believed to be about Swift's feud with fellow popstar Katy Perry.
Cyrus has now spoken out against the video in an interview with Marie Claire, suggesting that it isn't fair that she is seen as a "bad role model" based on how she dresses and performs on stage, when Swift uses violence in her work and is seen as a positive role model.
"I don't get the violence revenge thing," Cyrus said. "That's supposed to be a good example? And I'm a bad role model because I'm running around with my t***ies out? I'm not sure how t***ies are worse than guns."
Swift has yet to comment on Cyrus' remarks.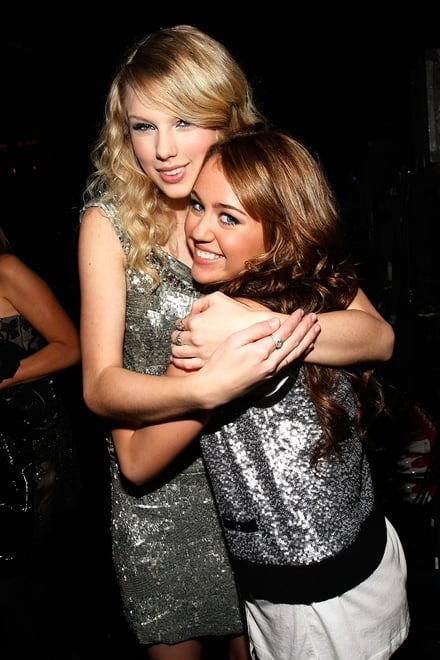 They used to be friends: Taylor Swift and Miley Cyrus pictured together in 2008 at the American Music Awards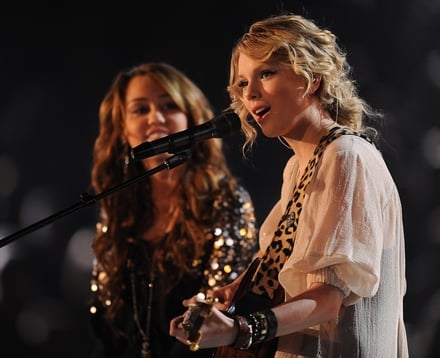 On stage together at the 2009 Grammy Awards
Check out Swift's Bad Blood music video here featuring Selena Gomez, Karlie Kloss, Cara Delevingne, Jessica Alba, Lena Dunham and many, many more stars: