Vogue Williams has revealed that she is still living with Brian McFadden despite announcing that they were planning to divorce after nearly three years of marriage.
Speaking with The Sun newspaper, model and DJ Vogue said that they will remain living together until she finds somewhere else to move into, "My family find it strange but we've only just broken up and I haven't found somewhere else to live.
"I'm sure there will be a time when we're not in contact as much as we are now, but until I find somewhere else we're going to be in each other's lives."
The couple, who tied the knot in 2012, announced their split last month and Vogue added that their decision to part ways had nothing to do with anyone outside of their marriage, "It just didn't work out. He wasn't with anyone else, I wasn't with anyone else, it was nothing to do with that. That's why we find it easier to be friends maybe."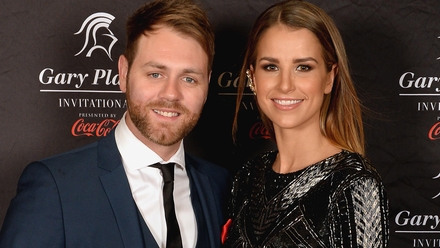 Brian McFadden and Vogue Williams
Vogue broke the news of their separation on Twitter in July saying, "It is with sadness that Brian and I have made the tough decision to go our separate ways.
"We will always care greatly about each other, remain friends and wish each other all the very best for the future."
She continued: "We have nothing else to say on the subject and we would like to thank our friends and family for their support during this difficult period. Vogue x"
McFadden later took to the social networking site releasing a similar statement, but replacing his name in place of Vogue's.
In April the 35-year-old former Westlife star gushed about his 29-year-old wife, saying she was his "soulmate" and describing their first encounter as love at first sight.
"We instantly clicked and talked non stop for eight hours the night we met and I proposed eight months after," he said.
The couple signed a deal to buy a house in Howth, Co. Dublin earlier this year.