With Jon Stewart hosting The Daily Show on Comedy Central on Thursday night for the last time, here's the RTÉ TEN tribute to his contribution to one of the smartest US comedy shows.
Stewart will be replaced by Trevor Noah, who faces a massive challenge to match, never mind improve on, his predecessor. And here are TEN reasons why:
1: Jon Stewart's simply the best
HBO's Last Week Tonight host John Oliver, who was previously a contributor on The Daily Show with Jon Stewart, says: "He's the best person who has ever done political comedy. No one will do it better than him. Ever.
"It's going to be a different show. You can't easily replace him. You can't fit in his shoes. I tried. I was in his shoes for a summer and those shoes don't fit, they're too big."
2: Dubya was always a popular target:
3: Keeping it topical
Before Jon Stewart took over in 1999, Comedy Central's The Daily Show was barely topical or newsworthy. Stewart transformed it into a global phenomenon.
4: It's NOT Fox News.
The Murdoch-owned 'news' channel was a frequent target and was mercilessly lampooned by Stewart, in particular it's partisan contributors and right wing views on just about everything. Fox News kind of took it personally. Bless.
5: Big name guests
Even the US President came on the show during his final week. It was Obama's seventh time to appear on the show, despite never getting a soft ride on the show. Despite this, he appeared to be a genuine fan and joked "I can't believe you're leaving before me," Obama told his host, "I'm going to issue an executive order: Jon Stewart cannot leave the show. It's being challenged in the courts."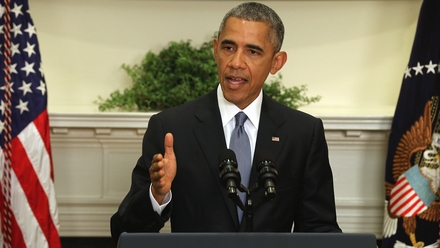 6: This touching monoluge
His post-September 11 monologue endeared him to millions of viewers
7: He made the competition nervous 
Fox News scheduled the first Republican debate - likely to feature Donald Trump - the same night he leaves. That's how seriously Stewart's taken by the opposition.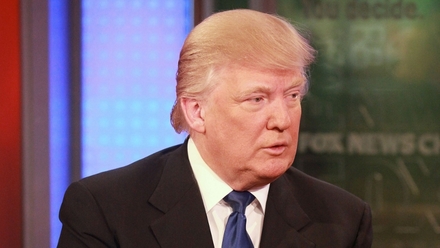 8: His patter with Stephen Colbert
This was never a one-man operation and Stewart's banter with others was essential viewing - especially when Colbert was about:
9: Donald Rumsfeld getting slaughtered
10: He became the most trusted man in America
Maybe it says something about the state of American television journalism but many regarded the host of a spoof news show on a Comedy Channel as the most trusted source of news (he was named America's most trusted newsperson in a 2009 TIME poll). It's an incredible legacy for man who said he was "just throwing spitballs" and was there to entertain rather than inform. We'll leave the last effin' word on Jon Stewart to Denis Leary: