Bono and The Edge joined Yoko Ono in New York's Ellis Island to unveil a tapestry in honour of her late husband John Lennonn.
The tapestry was commissioned by Amnesty International in appreciation for giving the rights to record cover versions of Lennon's post-Beatles songs. The organisation has raised more than $5 million in royalties from the songs.
The art work shows Manhattan as a yellow submarine with Lennon as its pilot holding up a peace sign.
At the ceremony Bono paid tribute to Lennon and stressed how important his message of peace was in today's world.
He said "are we going to give peace a chance? John Lennon is here and he's still asking that question. He has an answer too and the answer is love."
In his speech Bono also spoke about the war in Syria and equated the waves of immigrants that once went through Ellis Island to the refugee crisis created by the ongoing conflict. Check out the video clip for more.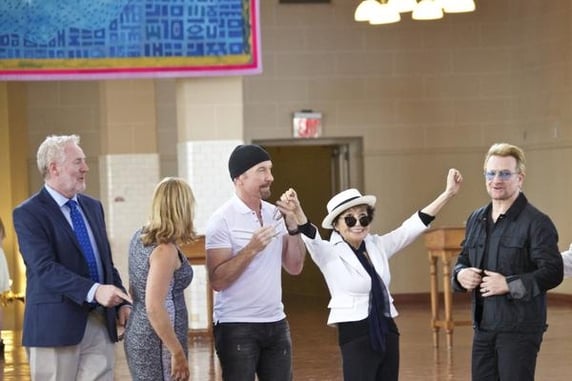 After the tapestry was unveiled inside the Ellis Island National Musuem of Immigration, the group posed for photographs in front of it and held up peace signs.
The cost of the commission by New York-based Czech artist Peter Sis was covered by Bono, The Edge and music-businessman Jimmy Iovine.