Bobbi Kristina Brown will be buried next to her mother Whitney Houston, it has been reported.
The 22-year-old singer's funeral will take place on Saturday (August 1) at St. James United Methodist Church in Alpharetta, Georgia and she will be buried the following Monday in Westfield, New Jersey at the Fairview Cemetery, according to ABC News.
An autopsy into Brown's death has been ruled inconclusive.
The only daughter of singer Whitney Houston died on Sunday (July 26), six months after suffering irreversible brain damage in an incident at her Atlanta home where she was found face down and unresponsive in a bathtub by her partner and a friend on January 31. She had been in a medically-induced coma since then and never regained conciousness. She was moved was moved by her family to hospice care on June 24.
An initial postmortem examination was carried out by the Fulton County Medical Examiner's Office in Georgia, but the results have been inconclusive.
A statement from the medical examiner read: "The initial portion of the autopsy has been completed. The autopsy does not show an obvious underlying cause of death and no significant injuries were noted.
"No previously unknown medical conditions that could have contributed to death were identified. Additional laboratory testing will be performed. Subpoenas have been issued to obtain needed documentary information.
"We do not plan to complete the death certificate or determine a cause and manner of death until all test results are completed and all investigative, medical, and other documentary records are received and thoroughly reviewed."
R&B star Bobby Brown has officially spoken out about his daughter's death for the first time, releasing a public statement through his attorney.
He said: "Krissy was and is an angel. I am completely numb at this time. My family must find a way to live with her in spirit and honour her memory. Our loss is unimaginable.

"We thank everyone for the prayers for Krissy and our family as we mourn my baby girl."
Bobbi Kristina Brown's family previously released a statement on her death which read: "She is finally at peace in the arms of God. We want to again thank everyone for their tremendous amount of love and support during these last few months."
Stars from the world of entertainment have also been paying tribute to Bobbi, check out the details here.
Her death came three years after her Grammy-winning mother, who had battled substance abuse, drowned in a bathtub in a Beverly Hills hotel at age 48.
Authorities said cocaine abuse and heart disease contributed to Ms Houston's death on 11 February 2012.
Ms Brown inherited her mother's fortune.
A $10m civil lawsuit filed last month accuses Ms Brown's partner, Nick Gordon, of causing her life-threatening injuries and of stealing from her bank account while she was in a coma.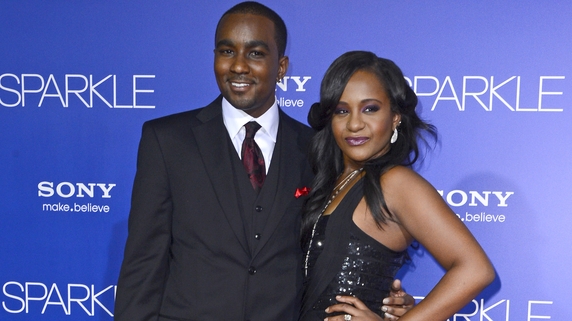 No one has been charged in the case.
Ms Brown was an aspiring singer who began performing with her mother as early as 1999, singing duets of My Love is Your Love.
In 2003 they recorded another duet of Little Drummer Boy for a Christmas album.
Ms Brown's father is a Grammy Award winner who started his career as frontman for the R&B group New Edition.
Ms Houston and Mr Brown both struggled with substance abuse and divorced when their daughter was 14.
Ms Houston described their 15-year marriage, which ended in 2007, as drug- and alcohol-fuelled.
The couple's tempestuous relationship and often erratic behaviour was chronicled in the short-lived television series, Being Bobby Brown.
Bobbi Kristina Brown was hospitalised twice with anxiety after her mother's death.

In 2012 she starred on Lifetime's reality TV show, The Houstons: On Our Own, in which Houston's family struggled to recover from the famous singer's death.
The same year Bobbi Kristina Brown guest-starred on For Better or Worse, a television series about a married couple.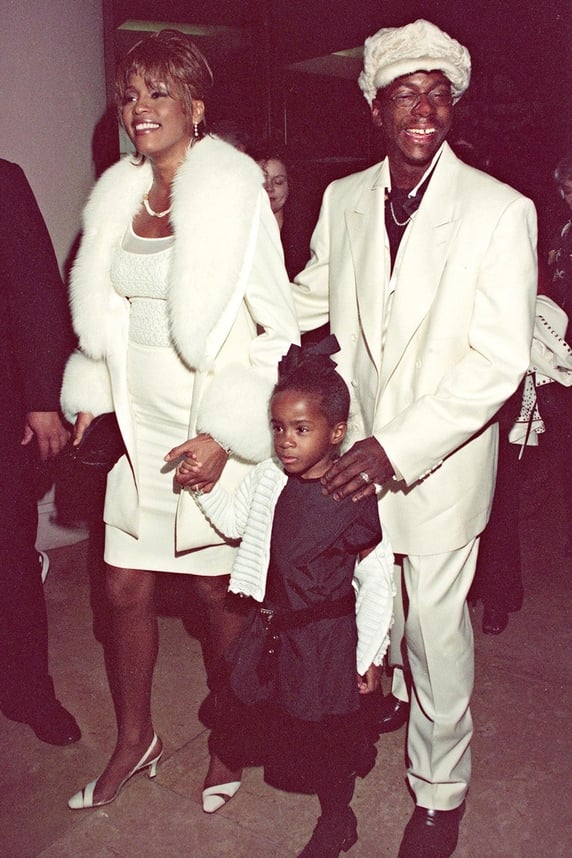 Whitney Houston, Bobby Brown and Bobbi Kristina pictured in Beverly Hills in 1998