How apt. The man who's made a career out of no-fuss walked on to the Croke Park stage as if it was an 'upstairs in a pub gig' and just got on with it. Nerves? Not a bit.
Talk about putting the voice in your own head into perspective... For that alone, Ed Sheeran was truly worth anyone's night. From the sweet vibe to the impressive audience dancing - no Dad shapes in eyeshot - and even better backing vocals from the four corners of Ireland, there were plenty more.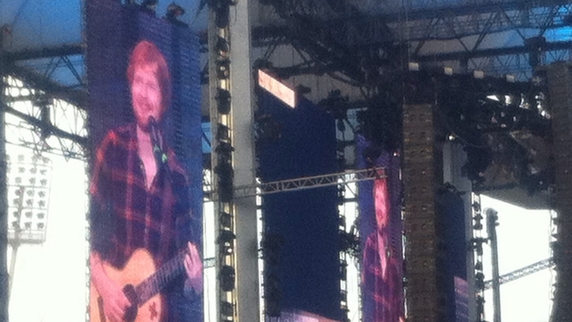 Curfews are a killer - passion isn't the easiest of things with the lights on, after all - and the larger-than-life average bloke came onstage way too early for anyone's good. But as night fell, the crowd warmed up and the never-gets-old magic of a weekend really kicked in. The weather gods smiling helped, but then, Sheeran seemed so in control he probably had a hand in that too.

Bloodstream marked the show turning point - "tell me when it kicks in" indeed - and, as expected, the hits were the highlights. Don't, Thinking Out Loud, The A-Team and Sing will get even more listens on Saturday morning than they did as primers on Thursday night. Jones' Road was treated to plenty of choruses on the way home and you half expected to see the man himself with his guitar and flight case open busking near Quinn's. Maybe that's one of Saturday night's surprises.

Friday's were a snippet of Raglan Road and a Kodaline cameo where 80,000 had something in their eye as Dublin felt like a very special place to be. It happens, more than we're actually grateful for. Could those London shows have raised any more goosebumps on the faithful? Hmm, doubtful.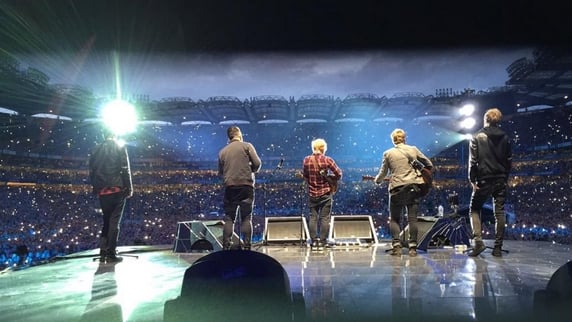 Magical video from one of the best gigs of the summer @edsheeran #edsheeran #edsheerancrokepark https://t.co/NpCLsntjwZ

— RTÉ TEN (@RTE_TEN) July 24, 2015
You always wonder with the first date of a two-night run whether those attending the second will get a better deal. But anyone who was there between 8 and 10:30 on Friday should no reason to feel they missed out. The man shrunk the place to a size that suited him, left everything he'd brought as a performer on stage, and a fair chunk of his heart in headquarters. He wasn't the only one.
Harry Guerin