Bit mystified by some of the acts on this year's Longitude bill? Not sure you really know your Mumdance from your Petite Noir? Relax! Here's Alan Corr's bluffer's guide to some of this year's more esoteric names  
"I haven't heard their new stuff but I really liked them before they went deconstructionalist post-grime" Between mouthfuls of warm, over-priced beer, that's been the mantra of even the most adventurous festival-goer over the years.
Let's face it, who really knows the divine mysteries of every single act on every single bill on an ever-growing Irish festival circuit?  
This year's Longitude Festival (Marlay Park, Dublin Friday to Sunday) is a happy mix of rockist mainstream, experimental pop and post-everything dance, hip hop and electronica. And all the better for it. Across four distinct stages, Longitude mixes old school rock `n' roll with an impressive slew of new acts, many of whom are making their Irish debuts.
Which is just the way it should be for a big tent - figuratively and otherwise - alfresco music weekend.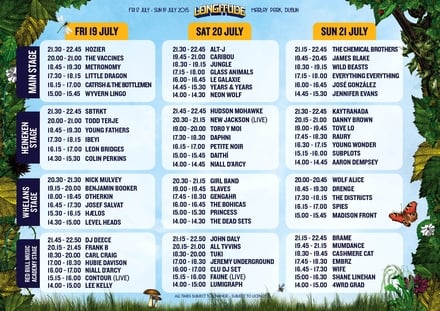 The more mature gig goer is on safe ground with the likes of The Vaccines, The Chemical Brothers, James Blake and (over-ex) Hozier but may well be left dawdling at the back if he or she strays into more alien territory over at the Red Bull or Whelan's Stage.
So here is crash course in what to say when you're found quitting Hozier's Celtic soul brother shtick to trudge cross field to check out the more eh, selective sounds over the Longitude weekend. 
Wife (Red Bull Dance Academy Stage, Sunday)
Corkman James Kelly used to front black metal band Altar of Plagues but he's alright now. Since taking the electro route, he's played and worked in London, LA and even Moscow. His set on Sunday night promises all the nocturnal longing and pure strangeness of fellow Longitude man, James Blake.
Petite Noir (Heineken Stage, Saturday)
Crazy name! Crazy guy! Well, not quite. 24-year-old Yannick Ilunga hails from Cape Town via The Congo and he mixes multi-layered, intricate electro with a deeply soulful voice and rippling Afro blues guitar. It's a constantly shifting sound which the man himself calls "noir-wave", a "new wave with an African aesthetic". It's a dark, it's brooding. It's superb.
Mumdance (Red Bull Music Academy Stage, Sunday)
Producer Jack Adams sprang from London's grime underworld and he says his mission statement is to capture the inchoate confusion in key UK sounds - bleep, tech-step, grime - just before they coalesced. "When you're on the dance floor, and something confuses the shit out of you - that's a beautiful thing." says Jack. It's a strange brew. 
Subplots (Heineken Stage, Sunday)
Phil Boughton and Daryl Chaney are Dublin duo Subplots. They've been toiling away for several years, weaving mysterious patterns of subverted indie guitar with the ruptured choirboy vocals of Boughton. Their debut album, Nightcycles, suggested Elbow before they went all sappy but this year's follow-up, the beautifully-named Autumning, revealed real ambition and scope with meticulously-crafted electronics and passages of barely there minimalism.
Kaytranada (Heineken Stage, Sunday)
The incredibly prolific Kaytranada aka Louis Kevin Celestin is a Haitian-Canadian electronic musician, producer and DJ with an impressive list of production credits. He's done bootleg remixes of everyone from Beyonce, Nelly Furtado, AlunaGeorge and Chet Faker and he's also worked with Mobb Deep (there's even been a very good Hilary Duff cover version). Now signed to XL Recordings, Kaytranada's slick take on r `n' b and hip hop has made him a festival favourite. 
And as for those all important festival hair and beauty tips - relax, we've got ya covered. Check out our TEN tips for looking fabulous by clicking here