The vast musical extravaganza that was Live Aid took place on July 13, 1985. Phil Collins sang on two continents, courtesy of Concorde, and Madonna was, relatively speaking, the new kid on the block.
Collins performed at both London's Wembley Stadium and Philadelphia's JFK Stadium. Noel Edmonds piloted the helicopter that took Collins to Heathrow Airport to catch his Concorde flight.
Along with a set with Sting at Wembley and his own set at JFK Stadium, Collins also played drums during Eric Clapton's performance and joined the reunited Led Zeppelin at JFK Stadium.
Viewers around the globe donated in excess of $200 million (€180 million) for African famine relief over 16 hours of live performances with Ireland emerging as the most generous donors per head of population (despite our banjaxed economy at the time).
U2, Paul McCartney, Madonna, Mick Jagger, David Bowie, The Who, Queen, Duran Duran and Sade, among others, strutted their stuff at the star-studded event, which kicked off with Status Quo's Rockin' All Over the World.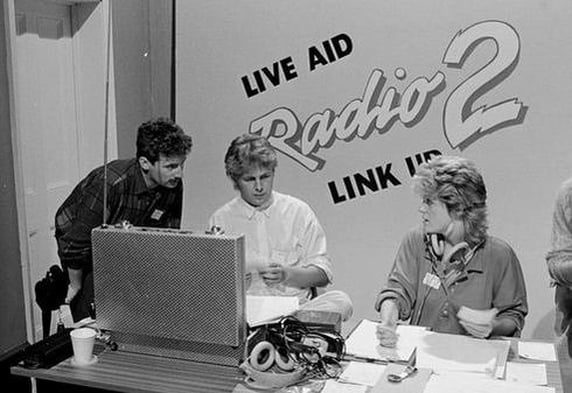 Behind the scenes for RTÉ's coverage of Live Aid
Another Planet's Gregg Perloff was one of the promoters of the American leg of Live Aid in Philadelphia. "The backstage scene was so crazy," he recently recalled for MTV News.
Perloff remembered watching Madonna walking back to her dressing room after her performance. Eric Clapton, Tom Petty, Mick Jagger and Rolling Stones guitarist Ron Wood were standing at the approach to the dressing room.
"Her security guards were like, 'You need to get out of the way'," Perloff recalled.
"And those guys gave them a look like, 'Are you kidding me?' All of a sudden they (the security guards) realised who they were and backed off and walked around them."
"It was just one of those classic moments in rock 'n' roll history where established guys, the royalty of rock, met someone who was not one of them and none of them thought to move an inch," he added.