Paul Rudd has said he was "miserable for about a year" while preparing for the role of Ant-Man as he had to stick to such a strict fitness regime.
The 46-year-old actor spent 12 months getting ready to play the Marvel superhero and revealed at a press conference in London yesterday that he lived on a restricted diet so that he could get into the headspace of Ant-Man.
"I didn't do anything fun for a year. I ate no carbs or sugar. I basically made health and fitness the focus of my day, for a long time," he said. "Like, we'd work out with a trainer and I worked with a guy who was doing tumbling and taught how to do flips and stuff like that. I was eating a lot of protein and vegetables. I was eating at very specific times of the day and I didn't drink any alcohol. I was miserable for about a year."
Rudd added that getting into shape helped him to get into the headspace of his character. "It helped me to get into the mindset of this character. I figured if I'm in really good shape, I'd feel like less of an imposter in the role."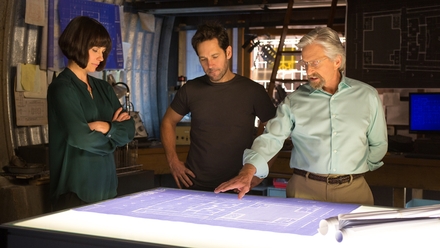 Evangeline Lilly, Paul Rudd and Michael Douglas in Ant-Man.
Evangeline Lilly also stars in the film and her character Hope teaches Rudd's Ant-Man to fight. Speaking about his co-star he said that her athletic ability in the film isn't far from reality. "Evangeline is just a natural athlete. She's just tough. I don't think it's too far from probably what she can do in real life, I'm guessing. But those scenes were really fun because it's just fun to fight. I don't get to do it too much in movies, so to go through all the training and all the choreography and really work on things like that is great."
Ant-Man hits cinemas on July 17.