One of rock's rarest records - a test pressing of Bob Dylan's Blood on The Tracks - has gone on sale in Los Angeles and is expected to fetch upwards of $12,000. 
Only five known copies of the record are said to exist so it is bound to be much sought after by collectors.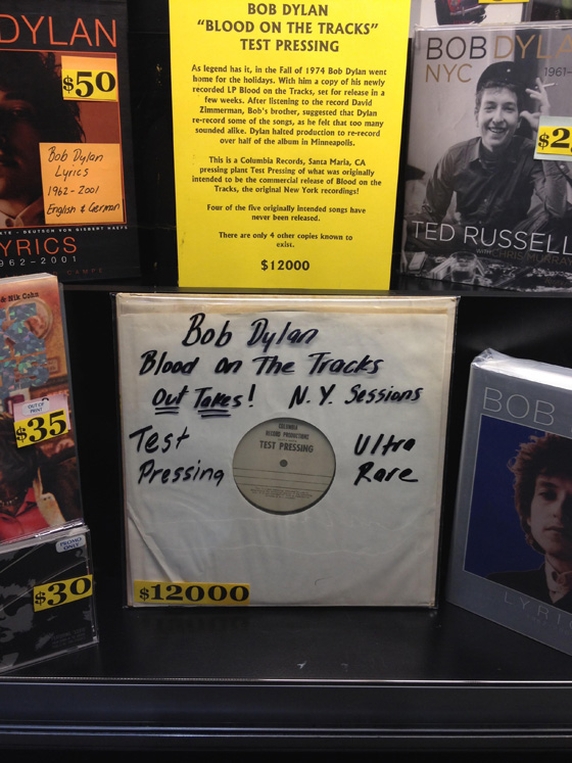 Pic:amoeba.com
Released in 1975, Blood on the Tracks is regarded by many fans as his best record ever. The love-torn record made the number one spot in the US and reached number four in the UK charts. However, what buyers arrived home with was not the record which Dylan had originally planned.
Dylan recorded the first version of Blood on the Tracks in autumn 1974 in New York, and test pressings were made in November. However, the singer's brother convinced him that the album was too melancholy in its original state.
Duly following fraternal advice, Dylan entered a studio on Minneapolis and re-recorded five of the tracks in December. The definitive version of the album, utilising the Minneapolis recordings, was released in January 1974. 
The New York recordings have been heavily bootlegged through the years, and tracks have also been released on the official Dylan releases, Biograph and The Bootleg Series Vols 1-3. However, original test pressings are very rare indeed.
The album which is being sold by Amoeba Records is the most expensive record the company has ever put up for sale.