Victoria Beckham has written a letter about her experiences with being a mother for Time magazine's Mother's Day special, saying motherhood is the "great achievement of my life." 
Beckham, who has four children with husband David, wrote, "Being a mother is simply the greatest achievement of my life. It has taken me on an unexpected journey that can constantly surprise, educate and confuse me! The emotional connection I feel towards my children brings boundless elation and joy as well as the inevitable worry and concern.
"They are a wonder to me every day. From a teenage son through to a toddler daughter, each moment of every day is filled with different energies, activities, feelings and a lot of comedy."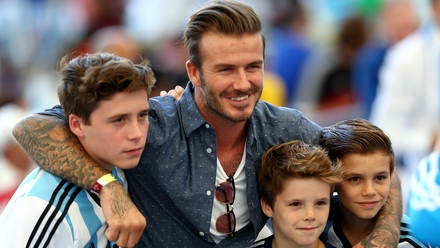 Brooklyn, David, Cruz and Romeo Beckham
Beckham continued, "From playing sport to lounging on the sofa, each of my children fill every second with laughter, music and discussion. They are kind hearted and well-mannered and have incredibly enquiring minds, and I feel incredibly blessed to be surrounded by these phenomenal human beings."
The fashion designer also touched on the importance of teaching her children not to take things for granted, "Being in a position where they live such a privileged life, it is important that our children understand humility, that they appreciate how their parents have worked very hard to create this life for the family and that they, too, have a responsibility to work hard, be respectful and never, ever take anything for granted.
"My mother and father always encouraged me and my siblings to have ambitions, and I hope that I can do the same with my children. I hope that I, together with their father, inspire them to dream big and be the best version of themselves that they can be."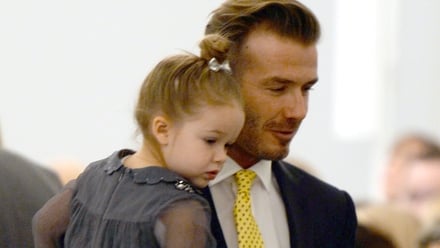 David with daughter Harper
Beckham spends a lot of time travelling through her work and added that it can be difficult being away from her family, "I travel for work when it's necessary, and I miss them all the time when I am away. But they hide notes in my suitcase, which I love to find when unpacking, and I always bring photographs of all the family and put them by my bed so they are the first thing I see when I wake up and the last thing I see when I go to sleep.
"I love to hear their voices on the phone and seeing their faces - thank goodness for FaceTime. That sense of feeling connected makes being apart that little bit easier."