RTÉ 2fm's Dan Hegarty is set to launch his new book, Buried Treasure, tonight and he spoke to TEN about where the idea came from.
Buried Treasure is a compendium of overlooked or undiscovered albums which Dan feels have been neglected over the years and features work by Irish acts such as Rollerskate Skinny, Blink, and The Power of Dreams as well as many international artists.
The book, which includes a foreward by U2 drummer Larry Mullen Jr,, features essays on each album by the likes of Cillian Murphy, Imelda May, and Aidan Gillen.
"The idea for the book is something that I came up with around two and a half years ago," Dan told TEN. "Buried Treasure is actually a feature on my radio show, where I highlight albums that either never went on to global success, or who's status has faded over time. Bringing it into print form seemed like the logical next step.
"The only factors that I hadn't thought through were probably the two most important ones; how long it was going to take to do in the way that I wanted, and trying to balance that with family life, which was pretty tricky!"
Dan launches the book, which is published by Liberties Press, tonight (March 26) in Dublin venue Whelan's and he will also do a dj set of music from Buried Treasure in Tower Records in Dublin on April 11.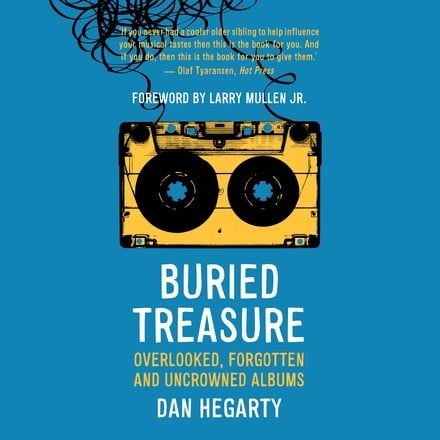 Dan added: "I had an initial list of slightly over 200 albums that I wanted to feature, so I had to cut that down to 55. Rather than just having a book with me writing about albums, I wanted to ask various people from music, TV/film, sport and other areas about albums that they are into.
"So, I decided to track down all sorts of people that I wanted to feature/contribute to the book. I started off with Larry Gogan, Larry Mullen, and Dave Fanning, and worked from there.
"I also wanted to get quotes from the people that made the albums that are featured too, so that pretty much doubled my workload!
"I guess you could say that I had to hustle some people, but in fairness most people were into the idea straight away. It took 12 months in total; I now know what the term 'a White knuckle ride' means!"
On his hopes for the book, Dan says: "When it comes to music, people often dismiss artists or albums that they haven't heard of. You don't find that as much with books or movies.
"The idea for the book isn't to right any musical injustices, I guess you could say that I hope it will act as an introduction or re-introduction to album from the recent and distant past that have in some way been overlooked or largely forgotten."