1 Before St Patrick was even dreamed about, Julius Caesar in his last victory on March 17, 45 BC defeated the Pompeian forces of Titus Labienus and Pompey the Younger at the Battle of Munda. It might sound remote now but was deemed thrilling enough as an event to make a recent 20-minute battle video:
2 432 AD In his sixteenth year, Patrick was taken into captivity from Britain by Irish marauders and sold  as a slave to a chieftain named Milchu in Dalriada, in what is now County Antrim. He spent six years as a shepherd tending flocks on the slopes of Slemish, near present-day Ballymena. Pictured below, the saint in effigy at the London parade last year.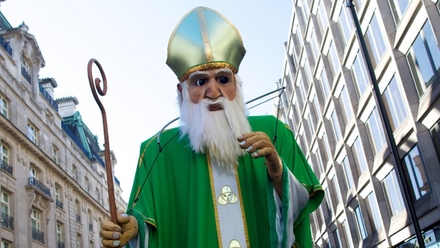 3 March 17, 1753 is believed to be the first official Saint Patrick's Day, but there is evidence that the day was celebrated in Ireland in the ninth and tenth centuries. The earliest record of a Saint Patrick's Day Parade was in 1762 when Irish soldiers serving in the British Army held a Parade in New York City. Pictured below are some would-be leprechauns at the 2013 Dublin parade.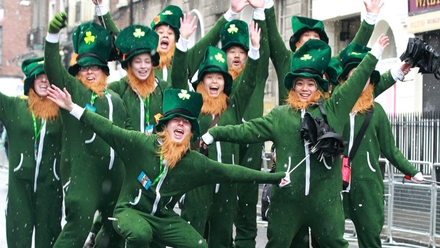 4 On St Patrick's Day, 1898 Clare-man John Philip Holland engineered successful test runs of the first 53 feet long modern submarine off Staten Island, New York. The craft was driven by a 45 h.p. gas engine for surface travel and a gas engine of the same capacity for underwater travel. It carried a crew of fifteen, and had a torpedo tube in the bow. It took its first dive on St. Patrick's day, 1898, in New York Harbour and was acclaimed a success. It was finally commissioned on October 12, 1900 as the first submarine of the American Navy.
Pictured below is a model of the first ever submarine, the Holland No. 1 on display in Trafalgar Square, London, a year after the launch of the actual vessel in 1901. Holland himself is also pictured below.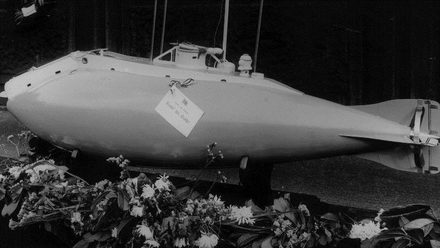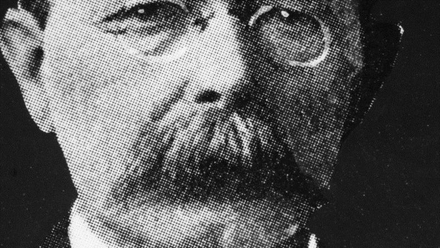 5 On St Patrick's Day, 1908 at the Olympia Theatre, Dublin, the American World Heavyweight Champion Tommy Burns knocked out Wexford 's Jem Roche in in 88 seconds, the quickest world heavyweight title fight ever.  Roche and his promoters had mounted a so-called 'challenge of convenience against to Burns, who had made the long boat journey London in 1907 for a title defence against James 'Gunner' Moir.
After securing a 10th round knockout against Moir,  Burns was persuaded to take on an Irish boxer in Dublin. Jem Roche was the dominant Irish heavyweight at that time. He had been playing with Wexford seniors in hurling and football,  and was active in Irish boxing ring. On St. Patrick's Day, March 17th 1908, , Jem Roche met Burns and although it was an inauspicious defeat, his name is immortal in boxing history and he is commemorated with a s statue in the Bullring in Wexford town. The writer Billy Roche is his grandson.
Watch Burns fight James 'Gunner' Moir  in London in 1907:
6 On St Patrick's Day 1973, parade marchers carried 14 coffins commemorating Bloody Sunday. Bloody Sunday had occured on January 30, 1972 in Derry's Bogside when British soldiers shot 26 unarmed civilians during a protest march against internment. Fourteen people died, thirteen were killed in the shooting. The death of another man four-and-a-half months later was attributed to injuries sustained on that day.
 7 At 10.00 am on St Patrick's Day 1978,  the oil tanker, Amoco Cadiz - which had ran aground rocks  five kilomteres off the Brittany coast on the previous day, March 16  - finally broke in two. The wrecked ship broke a second time eleven days later from the buffeting of high stormy seas.
The vessel was carrying 219,797 tons of light crude oil, belonging to Shell, which over the following days seeped in its entirety into the sea, along with 4,000 tons of fuel oil.  The French navy eventually destroyed the wreckage with depth chargers.  
It was estimated that year that the Amoco Cadiz catastrophe had caused 250 million US dollars (236 m Euros) in damage to fisheries and tourism, as beaches in the area and wildlife were seriously impacted. Pictured below is an aerial view taken in March 1978 of the shoreline, covered with oil after the sinking of the oil tanker, near the small port of Portsall, on the Brittany's coast.
The second picture beneath shows the oil slick from the stricken Liberian oil tanker which had been en route from the Persian Gulf to Rotterdam.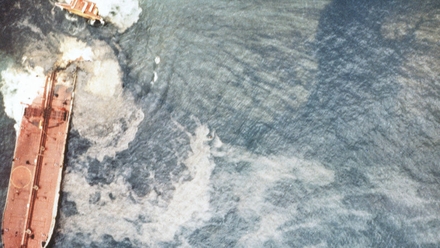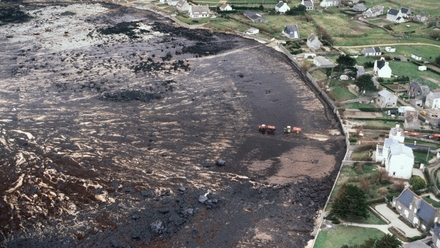 8 On St Patrick's Day 1991, New York Mayor David Dinkins outraged many when he marched with Lesbian and Gay marchers in New York's St Patrick's Day parade that year. More recently in September 2014, the organisers of the New York parade lifted a ban prohibiting gay, lesbian, bisexual and transgender groups from marching with banners identifying themselves.
The ban was ended following increased pressure after New York City Mayor Bill de Blasio's refusal to march on St Patrick's Day last year. Guinness had dropped its sponsorship of the event over the exclusion of gay groups marching with signs and banners.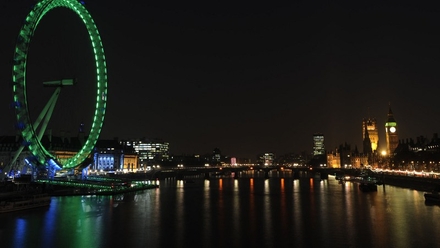 The London Eye lit up on St Patrick's Day 2011
9 On St Patrick's Day 1995, Sinn Féin leader Gerry Adams visited the White House in Washington. 15 months earlier, in January 1994, the then US President Bill Clinton had allowed the Sinn Fein leader to visit New York for three days, despite forceful objections from the FBI, the CIA and the State Department. Senator Edward Kennedy had influenced Clinton's attitude to Sinn Fein, declaring: "if we expect Sinn Féin to act like a legitimate political party, we must treat it like one."
10 On St Patrick's Day 2012,  Bolton Wanderer's midfielder Fabrice Muamba collapsed, having suffered massive cardiac arrest during his team's encounter with Tottenham Hotspur in the FA Quarter Final. The player was rushed to hospital in front of 35,000 spectators and millions watching on TV. Muamba was technically 'dead' for 76 minutes, but would in time make a full recovery. "For me there is no such word as luck in the dictionary," Muamba told the Telegraph in November 2012.
 "When it happened, the right people were there for me. They did an unbelievable miracle on me. If this could have happened in any place for me, it was a football pitch because I had the right people there to help. The ambulance, the doctors and the machine. If it happened to me in my house I don't think we would be having this conversation."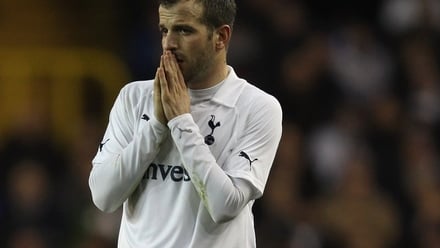 The picture above shows Rafael Van der Vaart of Tottenham Hotspur praying as Muamba receives CPR treatment  Muamba was taken off on a stretcher, still unconscious and the game was abandoned. Below, Fabrice Muamba takes to the pitch before the English Premier League football match between Bolton Wanderers and Tottenham Hotspur at The Reebok stadium, Bolton, on May 2, 2012.  
The then 24-year-old Muamba was making his first public visit to the stadium following his cardiac arrest on St Patrick's Day, earlier that year. The former England Under 21 player was unconscious for three days and spent several weeks recovering in hospital.
Married to Shauna Magunda, as of 2013, the former footballer was studying journalism at Staffordshire University. He was a pundit on ITV's African Cup of Nations coverage the same year.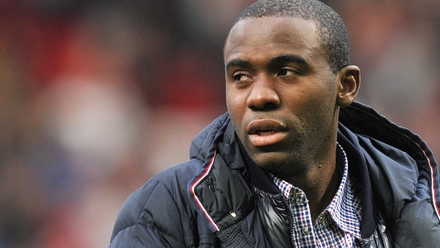 Paddy Kehoe