RTÉ has launched a new global online Irish television service for international audiences with 500 hours of unique Irish content now available worldwide.
Good news for Irish living abroad – RTÉ has just launched RTÉ Player International on iOS. This brand new, online TV service offers audiences outside of Ireland 500 hours of free and paid-for Irish television content, including just-aired television content which will be refreshed daily. It will also feature box sets and collections of some of Ireland's most popular shows such as The Late Late Show, Six One News, Prime Time, Nationwide and The Saturday Night Show.
The app will also feature editorially selected collections of content, themed around events, seasons, genres and people to bring a unique selection of contemporary and classic Irish television to audiences internationally.
Launching this new international service Alex White T.D., Minister for Communications, Energy & Natural Resources said: "Irish audiences abroad will now be able to avail of literally hundreds of hours of Irish television content across the full range of genres, while providing a valuable showcase for the best of Irish audiovisual production to viewers across the globe."
Brand ambassador for RTÉ Player International, Ryan Tubridy said: "It is a great pleasure to be the ambassador for RTÉ Player International. I know from feedback from international viewers of The Late Late Show that no matter where or how long you are living abroad, sometimes you just need that connection to home, whether that's hearing the Irish accent, catching up with news and events or getting a dose of Irish humour. RTÉ Player International delivers this in spades – it's like having Ireland in your pocket – just one click away."
RTÉ launches the new RTÉ Player International iOS app
Also speaking at the launch was Kevin Bakhurst, Deputy Director General RTÉ and Managing Director RTÉ News and Current Affairs. He said: "RTÉ remains a very important connection point for Irish people living abroad. Both at home and abroad we are seen as a trusted source of quality news and entertainment content. Whether people want to follow the latest news stories, celebrate national events or enjoy a vast range of content that is uniquely Irish, the launch of RTÉ Player International, the first dedicated global iOS app for Irish television content, is a very exciting development in our history. It not only greatly strengthens our offering to international audiences, providing them with a new way to connect to home, but also serves as an important new international platform for Irish content creators."
'Bono' welcomes the launch of RTÉ Player International
Jimmy Deenihan T.D., Minister for Diaspora Affairs, added: "The launch of RTÉ's new Player International service is wonderful news for our Diaspora abroad. It will provide them with a quick, convenient and immediate link with home which ensures they remain connected and engaged in the public and cultural life in Ireland. As Ireland's first Minister for the Diaspora I have met with many members of our Irish community all over the world. The ability to hear Irish voices and see Irish programming is an extremely tangible connection with home. This new service will remind them that Ireland is just a click away."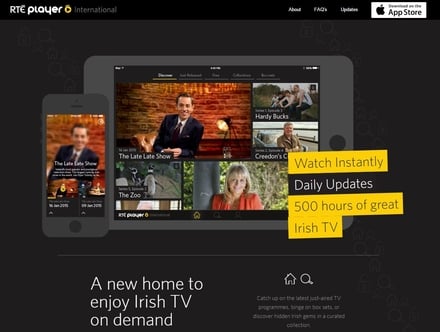 RTÉ Player International will be a 'freemium' offering which means that audiences will be able to download the app for free and access 100 hours of free content, refreshed daily. The full content offering can be accessed and watched free of advertising for a monthly subscription of €8.99 ($8.99/ £6.99) through the App Store. This subscription helps to cover the cost of securing the international rights for the content and for delivering this premium quality video-on-demand service.
The new enhanced RTÉ Player International service is available for iOS devices, supporting iOS7 or greater. The original RTÉ Player service for international audiences remains available on desktop and android.
For more visit www.rte.ie/playerinternational
The new app for international audiences (outside of Ireland) can be downloaded from the App Store here