The reviews are in! TEN's Harry Guerin and Taragh Loughrey-Grant take a look at what was promised to be one of the raciest mainstream movies ever made...
Fifty Shades of Grey
Starring: Jamie Dornan, Dakota Johnson
18
The Female Perspective (and reader of the book)
2.5/5

This hotly anticipated movie is surprisingly both boring and disturbing.
It would appear the reported on-set arguments between writer EL James and director Sam Taylor-Johnson were worth it. There are green shoots of an engaging love story in Fifty Shades of Grey, thanks to the efforts of the Nowhere Boy helmer. Unfortunately, what holds the film back is the jarring use of original dialogue from the book, which originated from Twilight fan-fiction, and the disturbing plot mood swings that follow.
Seeing as the trailers were amongst the most-watched of 2014 and with over 100 million copies of the book series sold, the story is familiar to many: young multi-millionaire businessman Christian Grey falls for younger, naive soon-to-be graduate Anastasia Steele. Trouble unfolds when he reveals his unusual desires.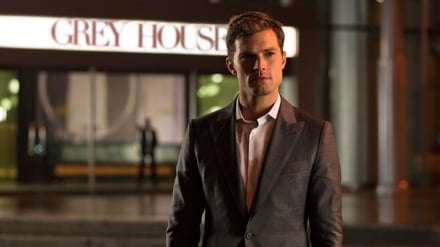 Two Northern Irish men are responsible for the best the film has to offer. Jamie Dornan has silenced the speculation over whether he could fill the designer shoes of the title character. Aside from uncool hair, he is the ideal candidate for the role: handsome, mysterious, clever, playful, austere, intimidating, vulnerable and sexy.
The second is Oscar-nominated Atonement and Anna Karenina cinematographer, Seamus McGarvey. He has created a beautiful looking film where the cold, clean, minimalist world of Grey is contrasted with Anastasia's warm, earthy, homely one. The result is one rich, vibrant, welcoming, stylish scene after another. It's a far cry from the seedy, disturbing world that is created by some of the script, which is at times clunky and delivers such mixed messages that the overall one is disturbing. Just as this couple are beginning their relationship, as Grey opens up about his sexual desires and Ana tries to understand them, vile lines explode, which prevent any chance of caring about what happens next. Lines such as his response to her question over whether they are going to make love: "I don't make love, I f***, hard." Indeed.
The soundtrack is amazing, with tunes from The Rolling Stones, Beyoncé, Ellie Goulding, Frank Sinatra, Sia and Annie Lennox all in there. There are little moments of humour, which don't come across in the book, such as the shock seen on Anastasia's face at various moments when she uncovers Grey's secrets. Dakota Johnson plays the role well, allowing us to see his world through her unworldly yet quietly self-confident eyes.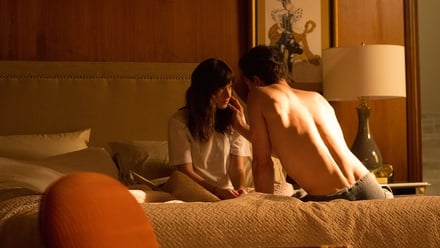 Overall, the film is surprisingly both boring and disturbing. The boredom comes from the fact that there is so much going on - so many 'roads' open up that none stands out and things begin to dull. Having read the book, this wasn't something I expected but as has been previously flagged, the film is a lot less explicit than the novels. Both leads are naked often, (no full frontals, which has caused some controversy of its own) but the lack of sex scenes in comparison puts more focus on the story and the dialogue, which can't handle the strain. At least with the book you could put it down and escape the escapism, whereas on the screen you are faced with the ugly reality that Grey is a sexual predator whose behaviour is, at the very least, questionable.
The sex that does happen also raises more questions than it answers, leaving abuse and boundary-crossing inappropriate behaviour hanging uncomfortably on screen.
As Grey says: "I'm fifty shades of f***** up", but the overriding one for the film is a stylish yet sad shade of grey.
Taragh Loughrey-Grant

The Male Perspective (non-book reader)
2/5
Paul Schrader, the writer of Taxi Driver, once mused that people didn't want to see sex in Hollywood films: they wanted to almost see it. Sure enough, that's wisdom which plays on a loop during the longueurs of Fifty Shades, a film with far too much in common with the grey in the title.
For all the speculation and hype that have bulldozed their way into the minds of punters over the past few months about what we would or wouldn't see on screen, the most shocking things here turn out to be the lack of drama and connection with the characters. So much for that quote early on when Christian Grey (Dornan) tells Anastasia Steele (Johnson) about identifying talented people and harnessing their efforts.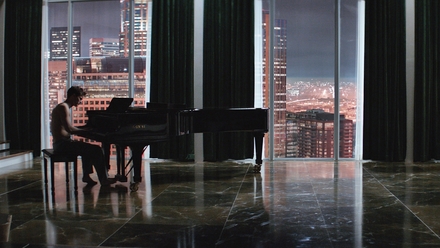 For others intending to view with virgin status (the book, smartass), Christian is a multi-millionaire who, like many a fabulously wealthy person before him, appears to have it all; except, that is, for something approaching a real life. Enter Anastasia, the ever-so-slightly dowdy and awkward college student who arrives to interview him for her college paper and makes a complete hames of it. Christian's heart, to borrow from that classic death metal lyric, is like a graveyard - they are dying to get in - but something in the honesty and innocence of Anastasia gets to him. And so begins a corkscrew romance where each gets a lot more than they originally bargained for.
There was a fair whiff of the aftershave ad off the Fifty Shades trailer and the snatches of dialogue sounded like hammers would be falling on the floor in every scene. Now, it's not that bad or hilariously, must-see awful, but the whole thing is all a bit 80s and only marginally edgier than those Red Shoe Diaries that satellite channels used to roll out late at night all those years ago.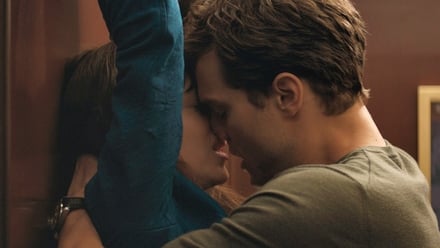 From greys and steels in the palette to action it all feels very repetitive - there's as much about signing a contract here as there was in the general election campaign of 2007 - and while dominant-yet-lost Christian has more whips than the Cartwright lads in Bonanza, take away that equipment and this story is the he's-scared-she's-scared dynamic that has powered screen love and longing down the decades. If you're looking for real emotional involvement in those departments, spend your time with Secretary, Shopgirl or Atomised for starters.
There's no doubting (to novice eyes, anyway) that Dornan and Johnson look physically right together on screen, but there's so little of substance for them to work with here that the only lasting thing their characters may leave in the minds of most viewers is a fair old whack of body dysmorphia. And let's face it: you should be holding your breath inside, rather than outside, the cinema.
In the Ireland of 30 years ago, Fifty Shades of Grey would, of course, have been banned, with the queues to see it stretching from Dingle right up to the Border. Crowds-wise, nothing has changed between then and now, but for all the things that have, there's the feeling that viewers in both eras would also come to the exact same conclusion after watching: that you'd need to be some kind of masochist to sit through two sequels.
Harry Guerin