A Batman prequel, the final finale of Futurma, some sentimental Sunday viewing and a documentary about a gigantic night club - it's been another week of jumbled telly-watching for John Byrne.
Reviewed: Gotham (Monday, RTÉ2); Futurama (Sunday, Sky 1); Call the Midwife (Sunday, BBC One); Clubland: Reality Bites (Wednesday, RTÉ2)
What's your problem with winter? Dark evenings, cold, wind, rain and a lack of funds combine with the delightful result that you're watching loads of telly. I'd call that a result.
Now that we're at the quitting end of January and things are pretty much back to dysfunctional normality, the new and returning shows are nicely clogging up the schedules and filing in those long nights.
Besides it's so much easier to complete New Year resolutions when all they require is a sofa and a functioning remote control, and seeing Gotham (Monday, RTÉ2) was high on my 'to do' list for 2015. Set yourself achievable goals, that's what I say.
As a lifelong Batman fan and an admirer of Bruno Heller, the British TV exec responsible for shows as diverse as Rome and The Mentalist and now the main mover behind Gotham, I was expecting great things. And while the pilot merely set the show up for the weeks ahead, it also laid out an excellent template for the opening season.
Unless you've been living in a bat cave for the last 80 years, chances are you know the basic back story. So I'll skip over that and just acknowledge that this prequel is set in the years when Bruce Wayne was a boy, dealing with his parents' double murder. It was a dark delight, even though it played free and easy with the comic book's roots.
What we got here was a noir-ish Gotham City, a town bursting with crooks and corrupt cops. But rookie detective Jim Gordon is determined to bring the bad guys down, and for all the right reasons. I wouldn't say I'm hooked (though I am), but it was an impressive start that also introduced a couple of early incarnations of future Batman super villains. Check it out on the RTÉ Player if you missed it on Monday. If they get this right it could run for decades.
And while it was great to see a new arrival (and more about the newborn later), this was also a week for goodbyes as Futurama (Sunday, Sky 1) finally took off for TV Heaven after several revivals. In truth, it really shouldn't have returned for a tenth season, as the stories and jokes were often flat, although it's still funnier than The Simpsons, a show that hasn't just passed its sell-by date, it's lapped it several times over.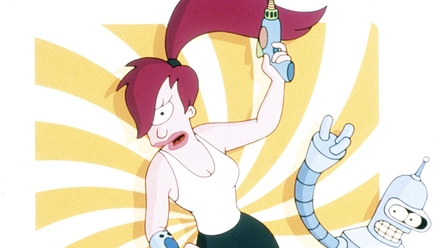 It was a bit of a mushy, sentimental end for Fry and the gang as the pizza-delivering time traveller popped the question to Leela. Thanks to Fry damaging a device invented by Professor Farnsworth that pushes time back ten seconds, the couple end up in a world where everybody is frozen in time, except for them. Which, of course, gives them the freedom of the planet.
In the end, Farnsworth reappeared and fixed the device, offering the ageing couple a chance to 'do it all again'. Even though it meant that they'd have all memory of their lives together wiped, they go for it. I doubt if Bender would have approved.
For decades, British TV giants the BBC and ITV have battled it out on Sunday nights with period dramas ranging from Bronte adaptations and their early nineteenth century settings to more recent chapters in history. It's always been competitive and some of TV's most popular shows – Inspector Morse, Pride and Prejudice, etc – have sent millions of beaming Britons to bed on Sunday nights.
In more recent years, the Edwardian era has produced a couple of hits in the shape of Downton Abbey and Mr Selfridge. The latter returned last Sunday and we'll be taking stock of its third season in a week or two, but this time around I'm heading to the late 1950s/early 1960s, and an area in the East End of London called Poplar.
Nowadays a stop on the rail line from London City Airport to the West End, and home to a selection of skyscrapers as well as the odd, hopelessly dwarfed residential street, back in the 1950s Poplar was a working-class area that simply teemed with life.
Call the Midwife (Sunday, BBC One) is an unapologetically nostalgic, feel-good drama, set in Poplar, and despite losing the odd key cast member (I'm still in mourning over Jessica Raine), it remains on top of its game and has a unique rhythm all its own.
Whether a time when vast swathes of the (in this case, British) population were clearly undernourished and either in or on the brink of poverty could be considered the 'good old days' isn't an argument I ever bothered with - all I want is a well-worked TV show that entertains, and Call the Midwife never fails.
This time around the focus was on a Caribbean couple expecting their first child, as well as Jenny Agutter's Sister Julienne meeting up with an old flame just before his light went out, and despite several mishaps, everyone was left smiling in the end.
It's good for the soul to have a show like this on the telly. It's a welcome alternative to the grittier dramas we normally devour, and a bit like Sunday tea with your granny before getting ready for school the next day. And we all love Gran, right?
The Guardian recently did a hatchet job on this show, and such mean-spiritedness only underlines the value of Call the Midwife. On Sunday nights, before starting another week, there's a certain comfort in watching babies been born and pallid people smiling through snaggled teeth and making light of malnutrition. It is, quite literally, a case of 'Knees Up, Muvver Brown'.
Even more entertaining, and a complete contrast, was Clubland: Reality Bites (Wednesday, RTÉ2). This returning documentary strand took as its first topic the massive Wright Venue in the county Dublin area of Swords, and apparently it's the largest nightclub in the country.
Seen through the eyes of the various folk who run and promote the venue, this was a master class in modern living as a bunch of  extra-large Oompa-Loompas ran around, not doing an awful lot while Acting Important, but everything seems to work out in the end. Mission: Superfluous.
Chief culprit was Steven, a club employee whose sole purposes in life seems to bounce around between hanging out, throwing mini hissy fits and gasping for a smoke. I haven't laughed so much since I got my first water bill notice, and this lot are much more worthy of your time (and a TV series) than the TOWIE crew or those extremely annoying Kardashians, all of whom would be welcomed with open, fake-tanned arms and air kisses at The Wright Venue.
The lines between reality stuff and the other stuff have well and truly blurred.
John Byrne