John Byrne's TV choices for the week ahead (Dates covered: Saturday Jan 24 – Friday Jan 30).
There's absolutely no point in going out this week as there are some cracking new and returning shows on the way, ranging from Batman prequel Gotham to The Good Wife to Shonda Rhimes' How to Get Away with Murder.
Pick of the week
How to Get Away with Murder, Thursday, RTÉ Two
This is great fun. The latest from Shonda Rhimes – the genius behind Grey's Anatomy, Private Practice and Scandal - is a pacey, initially confusing but thoroughly engaging drama about, well, getting away with murder.
Annalise Keating (Viola Davis) is a tough as nails Criminal Law Professor. In her class, she challenges her students to solve some of the most difficult criminal cases that her law firm takes on, and in the end, she selects a group of the smartest, most promising students to come work for her. The competition is on and the students will stop at nothing to make sure they get to the head of her class. While Keating seems to have it all together, we soon learn that her clients' secrets aren't the only ones she's keeping. Meanwhile, in flash-forwards, we learn that the price of impressing Keating might just be too much for some, when a group of four students get involved in their own murder mystery cover-up.
Trailer Time:
Star of the week
Julianna Margulies
The Good Wife, Thursday, More4
It's been 21 years since Julianna Margulies was cast for the role of nurse Carol Hathaway in a then new medical drama called ER. Initially, her character was meant to die in the pilot, but producers decided to keep her, and a star was born.
Since leaving ER in 2000 she worked in a variety of roles on stage, screen and TV before landing the lead role of Alicia Florrick in The Good Wife in 2009. During the show's run Margulies has enjoyed continuous acclaim for her performances in a show that's considered one of the best of the modern age (it's certainly my favourite), and she's won several awards and dozens of nominations, including Golden Globe, SAG and Prime Time Emmy.
As the sixth season of the legal drama begins, Alicia is adamant in her refusal to run for the position of State's Attorney, despite Eli's attempts to persuade her to launch a campaign. As Diane considers joining Florrick/Agos as a partner, a sudden crisis occurs that threatens to destroy the firm. And – joy of joys - Michael J Fox guest stars once again as the wily Louis Canning.
Season 6 Preview
Starting this week
Room to Improve, Sunday, RTÉ One
Architect Dermot Bannon is back with a brand new season featuring eight challenging and innovative new design projects: from the most compact conversion to the biggest build of the series to date.
As always, each build is fraught with human and financial drama: overstressed budgets, last minute changes of heart, unexpected disasters, unpredictable weather and the vagaries of an architect desperately, sometimes unsuccessfully, trying to convince his clients that he knows what's best for them.
In the opening episode Avril and Andrew Wilson-Rankin have bought a property in Dublin's Dun Laoghaire but it's as far from being a home, or even a house. Andrew and Avril's dream home is a two-storey disused commercial lockup on a side street, hemmed in by public pavement on one side and double yellow lines on the other. It's dark, dusty and completely uninhabitable. Which was where Dermot Bannon comes in.
Trailer Time:
Hey Ho, Let's Go! Monday, RTÉ2
Dermot Whelan, John Colleary and Colin Murphy are back for a full series of Hey Ho Let's Go! after the success of the show's recent pilot. This music/comedy panel show is presented by Whelan, with two teams led by Colleary and Murphy. On the first programme they're joined by Tara Lee, Neddy Arkins, Gearóid Farrelly, and Lloyd Griffith.
Fortitude, Thursday, Sky Atlantic
This expensive thriller debuts with a feature-length premiere and an all-star cast, tells the story of an isolated town on the edge of the world that gets rocked by shockingly dark events. Surrounded by the savage beauty of the frozen landscape, Fortitude, a small town in the Arctic Circle, is one of the safest towns on earth. There has never been a violent crime here - until now.
Grimm, Sunday, Watch
Season four of this quirky procedural that mixes fairytale monsters with crime-solving, Nick and Juliette struggle with the loss of his powers, while Monroe and Rosalee postpone their honeymoon to help out.
The Notorious, Monday, RTÉ2
Following the critical acclaim and success of last year's Reality Bites : The Notorious, Conor McGregor is back and this time he's bringing the family. This brand new six-part series follows McGregor and his meteoric rise, as he gets even closer to becoming UFC world champion.
Trailer Time:
The Holidaymakers, Monday, Sky 1
Tag along to the ultimate family holiday in this eventful fly-on-the wall, which invites clans from across Britain to a luxury villa in Spain. The only catch is they have no idea who'll be sharing the all-inclusive paradise with them.
The Works, Friday, RTÉ One
John Kelly and co are back and it's time to reveal the ten poems that have been shortlisted for RTÉ A Poem For Ireland. Also on the show, Sinéad Gleeson previews the cultural highlights coming this spring, including music, exhibitions and one of the most anticipated films of the year, Inherent Vice.
Top Gear, Sunday, BBC Two
The world's biggest car programme returns for what's threatening to be an explosive and extra-long run of brand-new programmes. In the first, Jeremy Clarkson, Richard Hammond and James May are in Russia for an incredible race across the vast and very beautiful urban landscape of St Petersburg. The Star in the Reasonably Priced Car will be Ed Sheeran.
Mr Selfridge, Sunday, UTV Ireland
The hugely entertaining period drama starring Jeremy Piven as the eponymous shop owner returns for a third season. It's 1918 as Harry Selfridge and his family are gathered for the funeral of his beloved wife Rose. As they say their tearful last goodbyes, a grief-stricken Harry wonders how he will ever get by without her.
The Meaning of Life with Gay Byrne, Sunday, RTÉ One
In the first programme in the new run, Cecila Ahern talks to Gay Byrne about growing up with her father, Bertie Ahern.
Scorpion, Thursday, RTÉ2
Inspired by a true story, this is a high-octane drama about eccentric genius Walter O'Brien, who was born and raised in Ireland, and his Scorpion team of brilliant misfits who comprise the last line of defence against the complex, high-tech threats of the modern age.  In the pilot, when a crisis at LAX airport leaves dozens of planes unable to land, the US government enlists a team of misfit geniuses to save the day. Expect action – and plenty of it - from the start.
Trailer Time:
Ending this Week
Futurama, Sunday, Sky 1
OK, the time really has come to say goodbye. Having survived numerous cancellations, the cartoon classic finally signs off forever. During a trip to the moon, where Fry, Leela and Bender made their first delivery together, Fry realises how much he loves his purple-haired cyclops, popping a long overdue question.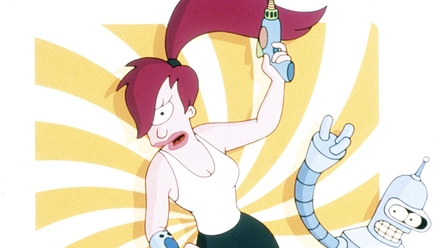 Phil Spencer: Secret Agent, Tuesday, Channel 4
The finale is set in Leicestershire. Market Harborough is a sought-after location in England, where homes usually sell fast, but John and Jane's house has been on the market for almost a year. But with décor from the 80s, and enough bric-a-brac to fill a junk shop, that's no surprise.
Ascension, Friday, Sky 1
This rollicking sci-fi drama reaches its conclusion. The identity of Enzmann's spy and Lorelei's killer is finally revealed - plus, more light is shed on Christa during the Birth List. An unexpected power surge, meanwhile, sees Viondra usurp Councilman Rose and rise through the ranks.
Drama of the week
Gotham, Monday, RTÉ2
I love the tag line for this show: 'The good. The evil. The beginning.'
Everyone who knows anything about the Batman will be familiar with the name Commissioner Gordon. He is one of the crime world's greatest foes - a man whose reputation is synonymous with law and order. But what is known of Gordon's story and his rise from rookie detective to Police Commissioner? What did it take to navigate the multiple layers of corruption that secretly ruled Gotham City, the spawning ground of the world's most iconic villains? And what circumstances created them – the larger-than-life personas who would become Catwoman, The Penguin, The Riddler, Two-Face and The Joker? Ben McKenzie stars in this Batman prequel that looks the business.
Here's an extended trailer:
Comedy of the week
Catastrophe, Monday, Channel 4
Rob Delaney and Sharon Horgan write and star in this new comedy that follows an American man and an Irish woman who make a bloody mess as they struggle to fall in love in London. The opening episode was good fun, and in episode two, Sharon faces the reality of having a giant new room-mate in the form of Rob, the man whose child she happens to be carrying.
Here's an interview with Sharon Horgan and Rob Delaney. WARNING! Contains adult humour
On Demand
Suits, Netflix
Season three of this fun legal comedy-drama is currently running on RTÉ2 late on Fridays, but here's a chance to catch up on the first two runs. Gabriel Macht and Patrick J Adams star as a big-shot lawyer with a razor-sharp mind, and a college dropout who impresses the former and lands a coveted associate job at his legal firm, even though he has no legal credentials.
Trailer Time:
Documentary of the week
Touched by Auschwitz, Tuesday, BBC Two
This is a feature-length documentary exploring the experiences of six Auschwitz survivors - telling of their survival in the years after liberation and right up to the present day.
Producer and Director Laurence Rees (The Nazis: A Warning From History; Auschwitz: The Nazis and The Final Solution) has travelled extensively in order to film six survivors, along with their friends and families. Together these sequences filmed in Jerusalem and Chicago, London and Bavaria, Krakow and Tel Aviv build a compelling portrait of the problems, challenges and triumphs that six different individuals have experienced since the war, as a result of their time in Auschwitz.
Among those interviewed are Tadeusz, a Polish political prisoner who decided that if he survived he should try and do good in this world. He became a doctor, but still had to fight persecution by the Communists in post-war Poland.
Film of the Week
The Magnificent Seven, Friday, TG4
John Sturges directed this classic western, starring Yul Brynner, Eli Wallach and Steve McQueen, which is a remake/remodel of Akira Kurosawa's Japanese-language film Seven Samurai. An oppressed Mexican peasant village assembles seven gunfighters to help defend their homes. The film's score is by Elmer Bernstein and it's magnificent too.
Trailer Time: