The Fleadh Cheoil series (7.30pm RTÉ One) returns with programmes from Sligo to where the annual event had repaired after a 23-year absence. Music Inc (5.00pm RTÉ 2) sees the contestants working under the watchful eye and ear of Ella Henderson. That's Alright Mama 60 Years on (10.00pm BBC 4) traces Elvis Presley's unforgettable career.
Fleadh Cheoil, 7.30pm RTÉ One
The annual Fleadh Cheoil na hÉireann returned to Sligo last summer after occupying itself elsewhere for all of 23 years. The new series recordiung that event kicks off tonight, featuring performances from musicians from Ireland, Britain, America, Spain and Colombia. Musicians and singers throughout include Michael Rooney, Dermot Byrne, Bríd Harper, Ciarán Ó Maonaigh, Caitlín Nic Gabhann, Padraig McGovern, Peter Carberry, Tara Breen, Lisa Canny, Maura O'Connell, Brian Conway and Dave Sheridan. Your hosts are John Creedon and Aoibhinn Ní Shúilleabháin.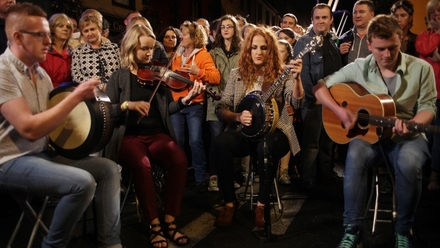 Fleadh Cheoil
Music Inc, 5.00pm RTÉ2
The X Factor brought Ella Henderson (pictured) a degree of fame that has actually endured. This week the remaining eight contestants meet the global superstar who sets them the challenge of producing and recording a new version of her song Ghost. The contestants are split into two teams for the challenge as they cast their musicians and vocalists to come up with a unique version. They must also design artwork to accompany their track. So there's a trip to Sony HQ in London where the guys come face to face with Ella as she listens to both recordings and decides which team triumphs and moves through to the next round.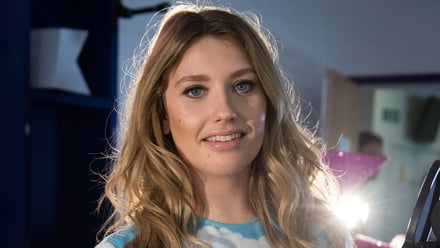 That's Alright Mama 60 Years on, 10.00pm BBC 4
Actor and musician Sam Palladio hosts this musical tribute to Elvis Presley, whose breakthrough single That's All Right was recorded at Sun Studio in Memphis on 5 July 1954. Sam traces Elvis's story from childhood poverty in Mississippi, where he had to make do with a broom for a guitar, to the moment when, by accident, he ended up recording the song that changed the history of popular music. There are performances of some popular Elvis tracks by soul legend Candi Staton, LA duo the Pierces and country star Laura Bell Bundy.