Coronation Street actress Anne Kirkbride - who played Deirdre Barlow - has died aged 60 after a short illness, her husband David Beckett said.
The soap confirmed the news on its twitter account.
It is with great sadness that we can confirm that Coronation Street actress Anne Kirkbride has passed away http://t.co/c6uS0DwgvQ

— Coronation Street (@itvcorrie) January 19, 2015
Ms Kirkbride joined the programme in the 1970s.
William Roache, who played her onscreen husband Ken Barlow, described her as a loving and vibrant person.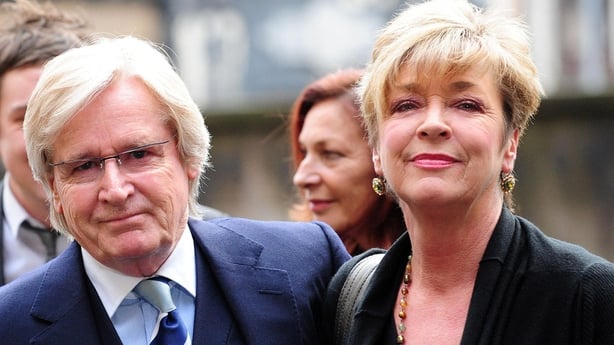 He said: "Coronation Street has lost one of its iconic characters and Anne will be greatly missed."
A statement on the ITV website said her husband and the programme's cast and crew are "heartbroken and deeply saddened".
Executive producer Kieran Roberts said: "There are no words to describe the sense of grief we feel at Anne's passing.

"We know only too acutely how much Anne meant to the millions of people who watched her create the legendary character of Deirdre Barlow.

"She will be greatly missed by the Coronation Street team who share happy memories of working with her.

"We feel blessed and honoured to have known her. Our thoughts are with David and their family."
Kate Ford, who plays Deirdre's daughter Tracy Barlow in Coronation Street, said she is "heartbroken".
Heartbroken at the loss of my friend and beautiful on screen mummy. The most crazy funny 100 per cent human. My life was enriched by her

— kate ford (@kateford76) January 19, 2015
Ms Kirkbride is survived by her husband, David, her brother John, and his family.
ITV director of television Peter Fincham said Ms Kirkbride had "created a unique and unforgettable character" and said she had been "a truly loyal servant to Coronation Street since joining the programme in the early 1970s".
Coronation Street's creator Tony Warren said: "Anne was very easy to love. Her talent over the years made a massive contribution to Coronation Street."
Some of Ms Kirkbride's co-stars paid tribute to the actress on social media following the announcement of her death.
My beautiful darling friend, Anne Kirkbride, passed away in a room filled with love. God Bless, my Darling Girl! Peace and rest!

— Beverley Callard (@Beverleycallard) January 19, 2015
Such sad news. Rest in peace Annie x

— Jennie McAlpine (@jenniemcalpine) January 19, 2015
#RIP to a wonderful unforgettable lady.. Anne Kirkbride . We will miss you so very much x

— Samia Ghadie (@realsamia) January 19, 2015
Just heard..so gutted. Annie..u were pure class..a smile always when needed and a hug always from the heart #ripannekirkbride #annekirkbride

— Adam Rickitt (@adamrickitt) January 19, 2015
So very sad to hear our lovely Anne Kirkbride has died. One of the true icons of @itvcorrie. We will all miss you. The nations favourite.

— Les Dennis (@LesDennis) January 19, 2015
Born in Oldham, Greater Manchester on 21 June 1954, the daughter of cartoonist Jack Kirkbride, she joined the Street in 1972 after a stint in Oldham Rep.
She got her part in the soap by accident when she was being interviewed for another show. It was a small role but she made such a good impression she was soon back.
She joined the series properly as Deirdre Hunt, engaged to Billy Walker, the feckless son of Rovers Return doyenne Annie Walker.
But they were never destined to wed, although Billy always had a gleam in his eye for her.
Often looking miserable on screen because of her storylines, she had a happy-go-lucky streak when the cameras stopped rolling.
On the day after the character Ray Langton left her, the cast walked into the studios to find her in a pinny dusting the furniture in the foyer.
"It was a great gag. I told them, 'Well I need the money now. My husband has gone and I'm left with the child."'
Ms Kirkbride was a heavy smoker, like many Coronation Street regulars including Liz Dawn (Vera Duckworth). Pat Phoenix, who played Elsie Tanner, was a lifelong heavy smoker who died of lung cancer in 1986 aged 62.
Ms Kirkbride's throat cancer was revealed in December 1993 - it was diagnosed after two growths developed on her neck.
She was told she had contracted non-Hodgkins lymphoma, a tumour of the lymph gland.
She had an operation in December 1993 to remove the lumps from her throat at the private Alexandra Hospital in Cheadle, Cheshire and her character bowed out of the soap for three months during chemotherapy treatment.
Her mother also died of cancer, aged 66 in 1993.
In 1998 a campaign to free her character from prison gained massive coverage, with even the then British prime minister promising to intervene.
She was jailed after being duped into a mortgage fraud by fiance Jon Lindsay.
Tony Blair gave his support to the "Free The Weatherfield One" movement and insisted it was clear to anyone "with eyes in their head" that Deirdre was innocent.
Ms Kirkbride formed an entertaining double act with her sharp-tongued on-screen mother Blanche Hunt, played by actress Maggie Jones, who died in 2009.
Last year Ms Kirkbride defended Mr Roache at his sex assault trial by taking to the witness box at Preston Crown Court to praise the character of her co-star.
She told the jury that he was "always a perfect gentleman" around her, and when asked what one word she would use to describe him, she replied: "Lovely."
After Mr Roache was cleared of rape and indecent assault, his character Ken returned to Coronation Street to whisk Deirdre off on a caravan holiday in North Wales.
In September Ms Kirkbride was granted an extended break from the soap by producers. She was expected to be absent from the show for three months.