John Byrne's TV choices for the week ahead (Dates covered: Saturday December 27 – Friday January 2).
There are some great end-of-year offerings, a documentary about the legendary Shay Healy – and the arrival of UTV Ireland. Happy New Year!
Pick of the week
Charlie Brooker's 2014 Wipe, Tuesday, BBC Two
Charlie Brooker returns for his annual snotty round-up of the year, which as usual was depressingly devoid of good cheer. Whether it's news, film, telly or Twitter, expect the pointless absurdity of life to get the full Brooker treatment. Charlie will look back on a relentlessly grim year where the cheeriest stories were people throwing ice over themselves.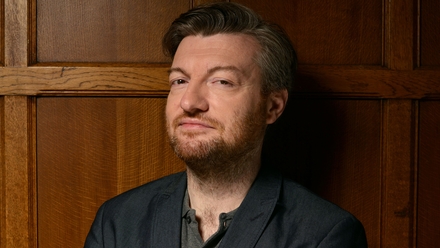 Star of the week
Shay Healy
What's Another Year? The Life and Times of Shay Healy, New Year's Eve, RTÉ One
In this one-hour documentary Shay, along with friends, colleagues and family members, looks back on a long, distinguished and occasionally turbulent life and times. For the past five decades Shay Healy has played his part in commenting on many aspects of Irish life. Through his songwriting, journalism, programme-making and all-round mischief-making his has been a unique contribution and continues to be so. Therefore, it's no surprise that celebrated figures from these areas have come together to pay tribute to Shay's life and times. They include Booker Prize-winner Anne Enright, Nighthawks co-host Ann Marie Hourihane, Riverdance creators John McColgan and Bill Whelan, iconic Irish songwriter Paul Brady, legendary balladeer Paddy Reilly and, not surprisingly, multiple Eurovision winner Johnny Logan.
Here's a very famous moment on Shay Healy's ground-breaking show, Nighthawks:
Starting this week
UTV Ireland, New Year's Day
It's not every day that a new Irish TV channel comes along, but from January 1, UTV Ireland will be up and running. Beginning at 7.25pm with Welcome to UTV Ireland, the highlight of its opening night comes at 8.30pm when former Late Late Show presenter Pat Kenny makes a return to telly in Pat Kenny: Out With the Old – In With the U, where he looks forward to 2015, charting the issues and events that will help shape the year.
Here's Pat on his last TV show, RTÉ One's The Frontline:
Hey Ho, Let's Go! Sunday, RTÉ 2
Here's a brand new music comedy panel quiz show presented by Dermot Whelan, who's joined by fellow comedians and team leaders John Colleary and Colin Murphy. As well as the three funny men there'll be well-known faces from the worlds of comedy and music for the perfect marriage of soundtrack and silliness as they go head-to-head to win the quiz. A full series is currently in production for the New Year.
Bruce's Hall of Fame, Saturday, BBC One
The legendary Bruce Forsyth fronts this brand new show and will take to the stage alongside some of the UK's best-loved entertainers at the world-famous London Palladium to celebrate the artists who inspired their careers.
Last Tango in Halifax, Sunday, BBC One
Derek Jacobi and Anne Reid return for the third series of the BAFTA Award-winning series Last Tango in Halifax as love-struck septuagenarians Alan and Celia.
Mapp and Lucia, Monday, BBC One
This is a new adaptation of EF Benson's Mapp & Lucia novels, starring Miranda Richardson and Anna Chancellor. It's 1930 and in the extraordinarily quaint Queen Anne village of Tilling which is by, but not quite on, the sea, all seems as tranquil as a mill pond. But its eccentric inhabitants exist in a world seething with gossip, faddishness and petty one up-manship and from her centrally located house of Mallards, Miss Elizabeth Mapp reigns supreme over them all.
The Musketeers, Friday, BBC One
The suave sword-fighters are sent to retrieve the Comte de Rochefort, the Cardinal's man in Madrid, who has escaped from a Spanish Prison. Rochefort brings news that the chief author of France's military strategy against Spain, General de Foix, has been captured. The Musketeers must join forces with Rochefort to rescue de Foix before this critical information falls into the wrong hands, but can Rochefort be trusted?
David Attenborough's Conquest of the Skies – First to Fly, New Year's Day, Sky 1
Legendary broadcaster David Attenborough spreads his wings with another dazzling documentary from the BAFTA-winning team behind Natural History Museum Alive and Flying Monsters. Attenborough enters the world of flight, travelling across the globe to chart the evolutionary story of animals who defy the rules of gravity. His epic journey begins with the planet's first flyers: the insect.
Drama of the week
Roald Dahl's Esio Trot, New Year's Day, BBC One
Mr Hoppy (Dustin Hoffman) lives a quiet retiree's life, tending to his balcony garden, pottering to the shops and back and secretly being passionately, hopelessly in love with his downstairs neighbour, Mrs Silver (Judi Dench). From their first meeting in a cramped lift he was utterly captivated by her sparkle and warmth, and he regularly fails to tell her this during their neighbourly chats over the balcony. When he finds she is distraught that her beloved tortoise, Alfie, doesn't appear to be growing, Mr Hoppy spots a chance to make his true love happy, and maybe even get closer to her in the process. When Mr Pringle (Richard Cordery), another neighbour, sets his more lascivious sights on Mrs Silver, Mr Hoppy's world crumbles. Stoically, he continues with his cunning plan to make Alfie miraculously grow and finally wins his way into Mrs Silver's heart – only to find he had been there all the while.
Comedy of the week
Callan Kicks the Year, Tuesday, RTÉ One
Callan Kicks the Year returns for its second Christmas special outing with Dobbo at the helm of an acerbic and funny look at Ireland and the world in 2014. New characters Shane McGowan, Imelda May and Ireland's only actors, The Gleesons, look back at the entertainment high points of the year.
Here's Oliver Callan's Meath Men sketch:
On Demand
Girls Seasons 1-3, Sky Atlantic
Ahead of the upcoming fourth season (it starts on January 11), the first three runs of Girls are available to view. Sharp as a tack and painfully funny, Lena Dunham's look at life for a group of twenty-somethings living in New York boasts some great if hopelessly self-centred characters, not least Dunham's Hannah Horvath, an aspiring writer who's going through life "one mistake at a time".
Documentary of the week
Man on Bridge, Sunday, RTÉ One
This one-off documentary tells the extraordinary story of legendary Dublin street photographer Arthur Fields. Having spent 50 years from the 1930s to the 1980s taking photographs on O'Connell Bridge, Arthur left a lasting impression on the lives of many Irish families and, indeed, on the fabric of the city itself. But what was the story behind the man and what impact did his obsession with work have on his own family?
Here's a short tribute to Arthur Fields:
Film of the Week
Chitty Chitty Bang Bang, New Year's Eve, RTÉ One
One of the great family films, this adaptation of the Ian Fleming novel stars Dick Van Dyke as Caractacus Potts, Sally Ann Howes as Truly Scrumptious, Lionel Jeffries as Grandpa Potts, James Robertson Justice as Lord Scrumptious and Robert Helpmann as The Childcatcher, possibly the scariest character ever to darken the big screen. The songs are brilliant, too. Sofas were made to enjoy gems such as this.