Jake Gyllenhaal has undergone another transformation for a role, this time bulking up for his part as a boxer in Southpaw.
The actor gained 15 pounds of muscle to play boxer Billy 'The Great' Hope in Southpaw, and is practically unrecognisable in the first picture released from the movie.
The film is directed by Antoine Fuqua and also stars Rachel McAdams, Naomie Harris, Forest Whitaker, Victor Ortiz, Tyrese Gibson and Miguel Gomez.
In an interview with Deadline, Fuqua said of his leading man: "Jake is going to change how people see him. I had him training twice a day in the boxing ring, seven days a week.

"I pretty much had him with me and my trainer every day. I took him to almost every fight. I had him train at Floyd Mayweather's gym in Vegas and we watched Floyd's fights, and the Manny Pacquiao fight.

"He trained in New York at Church Gym with real fighters. We literally turned him into a beast… Jake, my god, he's a very electric, powerful fighter in this movie, and a guy who fights for his daughter.

"I'm confident that this will change how people see Jake as a leading man."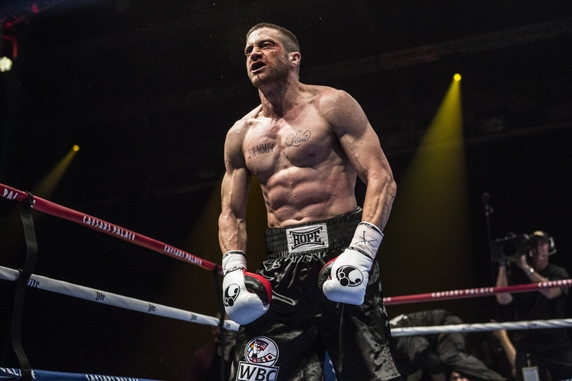 Jake Gyllenhaal in first Southpaw pic, Image copyright (The Weinstein Company
Gyllenhaal drastically lost weight for his last role in Nightcrawler where he plays a freelance crime reporter.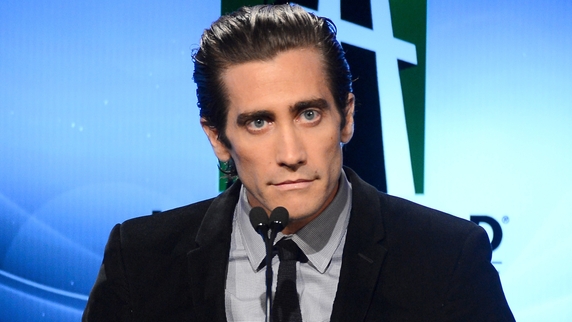 Gyllenhaal pictured in October 2013