With her new book Spark! How to Reignite Your Passion for Life... recently published, Norah Casey talks writing, wellbeing and work with Harry Guerin. 
Harry Guerin: Congratulations on Spark! - a really enjoyable page-turner that doesn't lecture anyone! What has surprised you most about the feedback you've received?
Norah Casey: I think the most rewarding messages about Spark! have come from people who, like me, have faced adversity - for some it was a bereavement but for others it was a derailment of another kind. It's tremendously comforting to help people who are struggling to find a way to get back into life again, because I have been there and I know that if someone had told me back then how to do it I would have been eternally grateful. 
Only yesterday I met a young man who lost his wife recently and he held my hand and told me how I could have been speaking for him and how he was comforted by knowing he was not alone and that there might be a way to live life again - not the one he planned but one that could make him feel fulfilled again.
Was it very hard to get that memoir-to-motivational ratio just right?
I won't lie - it was hard, really hard. Especially on days when I didn't want to go back to those dark and difficult days and I did everything possible to avoid sitting down to write (lots of clean cupboards in the Casey household during those weeks!).  But there were other days that I became so lost in that world that I didn't want to leave it. Thankfully, I had a great editor at Penguin who knew that some of what I had written was too raw to see the light of day. 
The writing flowed much easier once I began writing about the more positive aspects of my own rehabilitation and learning to live life again. I was conscious always of not preaching to people or setting myself up as some self-help guru. All of us have to deal with adversity in life - what sets us apart is how we deal with it and whether we can find a way to continue to fulfil our own potential even though we lose people along the way.
One thing that really struck me while reading is how truly willing we are to cheer other people on - in the case of Spark!, you! - while being so unwilling to cheer ourselves on.
That's so true. I think at times we forget that we need to be motivated and energised too. I wrote in the book about how hard that is when you're the boss. Often it's the loneliest job in the world because if you're good at it you should be giving your all to the team and the business - motivating others, getting the best out of them, rewarding them and cheering them along. But we all need someone to encourage us to do better and to pat us on the back when we do well. We also need to raise our own game continuously and not allow life to pass us by. The routine of daily living can so easily take over and we become "settled" at a time when we should be pushing ourselves to take on new challenges and learn new things.
So, are you even better at cheering yourself on now than you were when you started writing the book?
I'm more forgiving of myself perhaps. I spent a couple of years working at a frenetic pace as I felt that time might run out on me. I have found some equilibrium and although I still drive myself quite hard I don't worry about all the things I haven't done yet. And I have taken some time to pause and reflect and consider what the next challenge might be.
In terms of inspiration, Spark! is also a tribute to the awesome powers of the Irish Mammy. How far were you into the writing when you decided that your mother Mags needed to give her own take on life and lessons learned?
I was writing about the stages in our lives and got to the final chapter I thought I might duck out of writing that on the basis that I hadn't experienced it yet. The editor suggested that it might be good to find someone who was older and I could share their story. My mum Mags was the perfect candidate. I had forgotten how incredible she is in so many ways. Not just in terms of getting back into life after my dad died but all the things she has done in her life and almost all of them after we had grown and left home. She's been an amazing role model for me and she's far from done yet.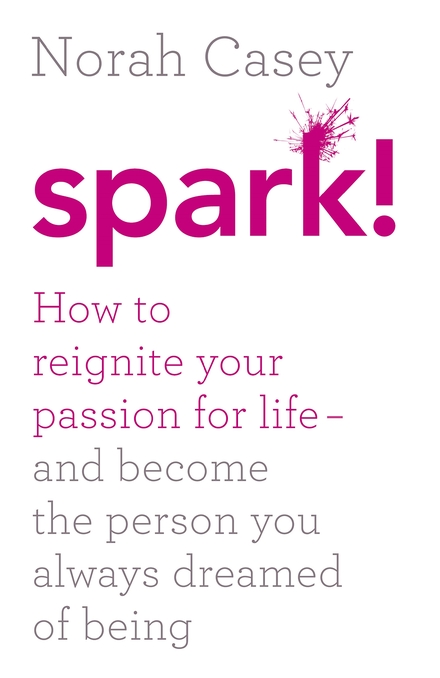 You love your music - was there a soundtrack to writing Spark!?
Music is one of the most important things in my life. There are times when I listen back to songs that meant a great deal to me and Richard [Hannaford, Norah's late husband] to music that makes me happy, melancholy, uplifted. But Dara [Norah and Richard's son] - who is 15 now - ensures that my music tastes are very current. So it was that writing Spark! was accompanied mostly by Imagine Dragons (Demons especially), Klingande... I love Coldplay, Vance Joy (Riptide especially)... Calvin Harris on summer nights when I wanted to get out of the study but knew I had to stay and write. Ariana Grande kept me company many evenings. American Authors, Avicii, Sam Smith, Passenger... I could go on but my message to people who are stuck in a rut with their music is to listen to what's current now - there is some great music out there.
Dreaming big, if you could have five people from the public around a dinner table to discuss inspiration, who would they be?
Michelle Obama, Stephen Fry, Oprah Winfrey, Mikhail Gorbachev, Malala Yousafzai.
And what's the one thing you would really want to find out from each of them?
They all faced adversity in their lives but found a way not only to overcome them but to change the world they live in and make a significant impact on those around them - I would like to find out what their spark was.
What have you got coming up TV-wise?
I have just finished filming a new series for RTÉ2 which is going out in the New Year, helping young women from the Travelling community to develop enterprise and business skills. It has been one of the most rewarding and challenging projects I have taken on to date and it transformed me and the women that I worked with. 
Your previous RTÉ 2 show The Takeover had its fair share of moments - which was the funniest for you?
I did 13 episodes of The Takeover, where we kick out the boss and I help the workers take over for two weeks. Firstly, it was incredible what people in the frontline of your business can achieve given the chance. But given that I was working with young and very inexperienced (in business terms) teams, there were some hilarious moments. I think the funniest was the time the staff of McNulty's furniture store in Roscommon gave away money for nothing in the main street to raise awareness about the new launch of the shop. The boss - Gerry McNulty - just couldn't believe they gave away his hard-earned cash when I showed him the video - that scene was carefully edited!
Given that Spark! has worked out so well, would you be tempted to try your hand at fiction?
I've written some short stories over the years for various books but I think my next book will be on business. In a way I have been writing that one most of my life and I thought it would always be my first.
And would you consider doing a Spark! for teenagers?
That's a great idea and if I do I will credit you at RTÉ TEN. I love working with teenagers - I live with one! - and I get far more back from sessions with them. Young people until they reach their 20s can think differently to adults, which is why I am so passionate about teaching them enterprise and entrepreneurship - if we could marshal and army of young business thinkers we would live in a very different Ireland.
So, what's next on your own life 'to-do' list?
Some time with Dara who is now in transition year and I am working on a new television project which will take a bit of time to put together - but it's a secret for now!
Spark! How to Reignite Your Passion for Life - and Become the Person You Always Dreamed of Being by Norah Casey is published by Penguin Ireland at €14.99.