A biopic, a quirky western, some Turkish arthouse and, of course, the blockbuster that is The Hunger Games - read our reviews before you decide which one to go and see this weekend. 

The Hunger Games: Mockingjay - Part 1 3.5/5

Director: Francis Lawrence

Starring: Jennifer Lawrence, Josh Hutcherson, Liam Hemsworth
12A
When I first heard that they planned to do what has become so common in big blockbuster book adaptations, and split the final instalment of The Hunger Games into two films, I wondered how this was going to work. I 'got' it with Harry Potter and the Deathly Hallows; I even, to an extent, 'got' it with The Twilight Saga: Breaking Dawn, but for Mockingjay, the least exciting and shortest of the Hunger Games novels, I wondered how they would make this story sustainable over two lengthy films. But lo and behold, they've done it.
Sometimes it's great to be proven wrong. 
From the opening scenes we are drawn into Mockingjay - Part 1 with the familiar face of Katniss Everdeen (Lawrence). But it's clear that the events of Catching Fire have deeply affected our heroine...
Read Sinead Brennan's full review here 

Get On Up 3/5
Director: Tate Taylor

Starring: Chadwick Boseman, Nelsan Ellis, Dan Aykroyd, Viola Davis, Octavia Spencer

12A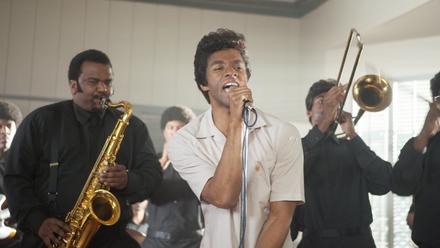 You can tell that Tate Taylor's misfiring biopic about the Godfather of Soul would have made more sense as a TV movie within the first few minutes. There is the great James Brown preparing for his legendary appearance in rock 'n' roll concert movie The T.A.M.I. Show in 1964. He is sauntering down a corridor backstage at Santa Monica Civic Auditorium and there, lo and behold, are The Rolling Stones looking all Anglo and angular in one dressing room, and there next door, lordy! are those nice, wholesome Beach Boys huddled around, practising their five-part harmonies.  
Next thing, we see an appreciative Mick Jagger (the real one produced Get On Up) grooving along and taking notes as Brown whips the crowd into a frenzy on stage. This is the kind of blunt exposition and shorthand that Taylor, director of the truly egregious The Help, uses in this rather sanitised biopic of the greatest funk soul brother of all time.
Instead of real character examination and a natural narrative...
Read Alan Corr's full review here
The Homesman

Director: Tommy Lee Jones

Starring: Tommy Lee Jones, Hilary Swank, John Lithgow, Miranda Otto, Meryl Streep

15A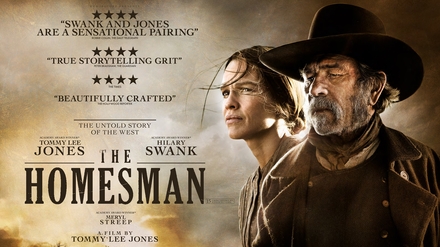 Based on a novel by American writer Glendon Swarthout, The Homesman is a delightfully quirky western that plays with a genre that's as much loved as it is derided.
Directed, co-written and starring Tommy Lee Jones, it features Hilary Swank in stand-out form as Mary Bee Cuddy, a middle-aged spinster from New York who lives in frontier Nebraska. When three local women show signs of insanity due to the hardship of their lives, she volunteers to bring them east to civilisation and a church in Iowa that cares for the mentally ill.
Before leaving Cuddy encounters George Briggs (Tommy Lee Jones), in the process of being lynched for claiming another man's land. She helps in return for him aiding her...
Read John Byrne's full review here 


Winter Sleep (Kis Uykusu) 4.5/5

Director: Nuri Bilge Ceylan

Starring: Haluk Bilginer, Demet Akbag, Melisa Sözen

Club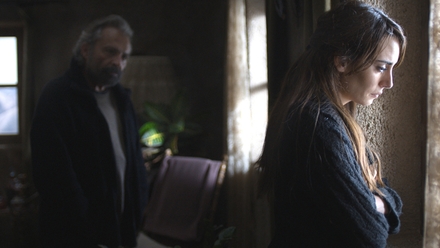 Wordy and philosophical - like Ibsen or Chekhov a la Turk - the Palme d'Or-winning Winter Sleep is merciless in its portrayal of a flawed, vain-glorious individual who, in Biblical terms, does not see the mote in his own eye.
Aydin (Haluk Bilginer) is a former actor who is now the proprietor of a hotel in a bleak, poverty-stricken village in the Anatolia region of Turkey. He may believe he is a reasonable man, a local worthy who can be charitable; he is first and foremost the local landlord.  
Aydin and his sister Necla (Demet Akbag) between them own...