She has the coolest bunch of friends ever, so it's hardly surprising that Amy Poehler wants to write about them.
The 43-year-old Parks & Recreation star, who has just released her memoir, Yes Please, would love to write about her "unique and special" pals Tina Fey, Mindy Kaling and Rachel Dratch.
Speaking to Entertainment Weekly, she said: ''My dream would be to write a book about my talented and famous friends and just spend a chapter on each.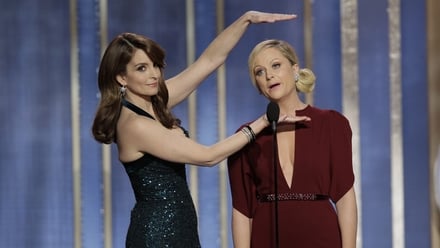 Tina Fey and Amy Poehler
''It would be a dream not only because it'd be so easy to write about how much I love their hearts and their work, but also I wouldn't have to write about myself.
''When you're a 'woman in comedy,' you're all kind of lumped together in this weird soup, whereas if you go back and read the books of any of these women, you're reminded of how different and unique and special and interesting and specifically skilled everybody is.''
Poehler further admitted that she's proud to be a feminist, adding: ''I love when women use that word because it's a beautiful word.
''I also think everyone's trying to figure out their place in all of it. At the end of the day, I think we are all much more alike than we are different.''