Do you know an Everyday Hero? Do you want to thank them on live television? The People of the Year Awards in partnership with The Nicky Byrne Show with Jenny Greene on RTÉ 2fm, are looking for Ireland's Everyday Hero. Click through to find out how you can nominate.
Ireland's Everyday Hero can be of any age, from any walk of life and from any part of Ireland but there is just one requirement – they must be really special to be considered! They might be the definition of community spirit, or the person who puts everyone else before themselves and never asks for thanks.
The team behind 2fm's The Nicky Byrne Show with Jenny Greene are calling out to people all over the country to nominate their heroic partners, friends, parents, neighbours and co-workers that deserve some national recognition at the 2014 People of the Year Awards!
To nominate your everyday hero, log on to www.peopleoftheyear.com or email nbshow@rte.ie. Nominators will be brought on air to talk to Nicky and Jenny to tell everyone just why the person they are nominating is an Everyday Hero.
All the nominations will be considered by a special adjudication panel and will be announced live on the People of the Year Awards TV programme on RTÉ 1 on Saturday, December 6.
Stay tuned weekdays to The Nicky Byrne Show with Jenny Greene on 2fm, which airs 11am to 2pm for further details. Closing date is Friday November 7.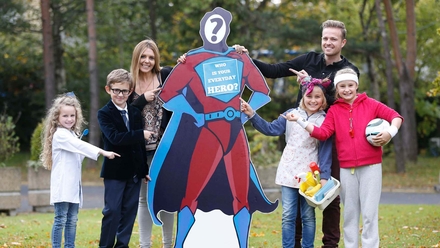 Speaking about the Everyday Hero 2014 Nicky Byrne said: "This event is not about big names and showbiz, it's about ordinary people who are honestly just amazing. The stories of ordinary people doing extraordinary things are humbling and inspiring. I can't wait to have one of our listeners up on stage as a winner this year!"
Jenny Greene added: "Every day on our show we get calls and texts from listeners asking us to thank someone special for something amazing they have done. The Everyday Hero award gives us the perfect opportunity to bring them on air to let them publically thank that special person for being their everyday hero and for making a difference to their lives."