The sharp-suited House of Lies (10.00pm, Sky Atlantic) returns for a third run, Tyler makes a personal breakthrough in Enlightened (10.35pm, Sky Atlantic), while Lee Mack is back with Not Going Out (9.30pm, BBC One)
Enlightened, 10.35pm, Sky Atlantic
Tyler makes a personal breakthrough in this episode. Following Amy's decision to tell Dougie what the suits at Abaddon really think of him, she and Tyler now have their boss onside. The trio conspire to wring information from Szidon's PA by asking her out for drinks, during which she reveals an unexpected interest in the painfully shy Tyler. A tentative romance begins to blossom, but Amy and Dougie are more interested in how they can use Eileen to help their cause.
House of Lies, 10.00pm, Sky Atlantic
Season three of this cutting US comedy drama begins with the aftermath of the gang's decision to go their separate ways and, so far, they're enjoying varying degrees of success. Marty has set up his own consultancy firm, Kaan & Associates, and, in this opener, jets off to China to secure the business of an organic foods CEO. Jeannie decided to stay put at Galweather Stearn, and now manages a dejected Doug. Clyde, meanwhile, works for the boss from hell.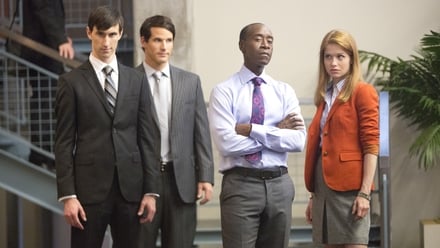 Not Going Out, 9.30pm, BBC One
Lee Mack brings his multi award-winning peak-time sitcom back for one more run. Currently the BBC's longest running sitcom, written by and starring Lee Mack this new season continues to follow the hilariously ill-thought-out plans and mishaps of Lee, as he desperately tries to impress long-suffering landlady and object of his affection, Lucy. For starters, Lucy has her handbag stolen from under Lee's nose so he feels the need to prove his manliness - over and over and over again.