What is your most-loved Irish poem of the last century? A Poem for Ireland is a major new RTÉ campaign which aims to get the public talking about the Irish poems they feel are the most-loved of the past 100 years.
In this time of centenaries, RTÉ looks back at the Irish poems and poets of the past century. The campaign will be spearheaded by The Works, RTÉ One's arts show, and RTÉ Radio 1's The John Murray Show in partnership with Poetry Ireland and An Post. The Jury will be made up of John Kelly (Chair), Rióna Ní Fhrighil, Damien Dempsey, Catriona Crowe, Maria Johnston, John FitzGerald and Anne Doyle.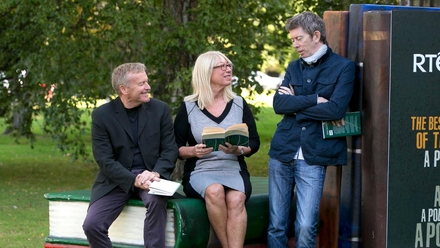 Speaking to RTÉ TEN at the launch today, John Kelly said: "For me personally, I would find it very hard to say what my favourite poem is, simply because that would change depending on the time of day, the weather, what was going on in my life and basically what mood I was in.
"I think people reach for poems at certain moments of heightened intensity, such as a death, a birth, falling in love, falling out of love. It really just depends on how I'm feeling when those big moments happen."
Anne Doyle admitted that she joined the campaign as it felt like the "perfect fit."
She said: "From a completely selfish point of view, this was the perfect fit for me. If I had have heard about it without having the opportunity to get involved, I would have really enjoyed it.
"I would have followed it and been interested in it. It was a real treat to be invited and to get involved. I am very much a poetry reader and I'm looking forward to using this experience as an opportunity to make new friends and meet new poets, and read poets that I probably should have read."
Anne added: "I suppose like most people you have a bit of a comfort blanket and you read what you're very fond of and familiar with. I'm a little lazy and not as adventurous as I should be.
"This campaign is making me look at the whole thing with fresh eyes. Poetry really is a part of my life that has given me great pleasure and sometimes great comfort."
RTÉ's A Poem for Ireland will run over the course of six months, from its launch on The John Murray Show and The Works today (September 26) to the unveiling of the Irish public's final choice in March 2015.
It will be accompanied by a major digital site where the public can nominate, read and vote for poems. The digital site will build in scale and content as the campaign progresses.
For more information about the campaign check out @RTEPoetry on Twitter and the hashtag #rtelovepoetry and Facebook https://www.facebook.com/RTEAPoemForIreland.