Producer Naughty Boy and Emeli Sandé have written a track for One Direction's next album which is due out later this year.
Naughty Boy has been in the studio with Niall Horan, Liam Payne, Zayn Malik, Harry Styles and Louis Tomlinson working on music for their highly-anticipated fourth album.
The producer, who has previously worked with Alesha Dixon, JLS, Lily Allen, and Alexandra Burke, has revealed that he asked friend and fellow musician Sandé to help out on a song called One Chance To Dance, which is now being hotly tipped as their next single.
Speaking to The Sun newspaper, Naughty Boy said: ''We wrote it with Emeli Sandé and it's a real progression for them. I've been told there's a big chance it's going to be the first single from their next album. I literally finished it this morning so I'm allowed to talk about it now.''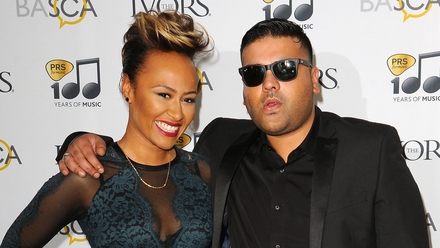 Emeli Sandé and Naughty Boy
Naughty Boy was invited to work with the boy band after striking up a close friendship with Zayn Malik.
He explained: ''I had to think about doing it because a One Direction song was a big leap into the pop world . . . I met Zayn at the BRITs but have become really close. It was a case of being mates before music.
"We live close to each other and both come from Pakistani backgrounds and working class families. We're Muslim and that's helped us bond. We love curries, too, so it's the little things as well.
''In this industry it's hard to make real friends but we'd be mates even if we didn't work in music.''