Great movie performances and a fond farewell to the first season of Callan's Kicks are our selections tonight.
Callan's Kicks, RTÉ One, 9.35pm
Young master Callan finishes his impressive debut run with his most ambitious sketch - delivering the history of hurling in four minutes. With guest stars DJ Carey as a guardian angel and Seán Óg Ó Hailpín as Mr Motivator, the Life and Death of a Hurler captures the hopes, disappointments, dreams, disillusionments and glories of the greatest game. Callan's Kicks charts one hurler's life from the cradle to the grave with a warts and all perspective on local GAA. It coincides with another epic weekend in the Championship as Cork and Tipperary prepare for battle in the All-Ireland semi-final in Croke Park on Sunday. The final episode of the series concludes with a final address from Taoiseach Enda, another cooking lesson with Rachel Allen, Christy Moore losing the rag, and a fond farewell from Dobbo himself.
Nebraska, 10:15pm, Sky Premiere
Bruce Dern gives a career-best performance in this film, which explores the ravages and regrets of old age, albeit in a quirky and humorous way. Dern plays Woody Grant, an addled and ornery alcoholic who receives one of those letters telling him that he has won a million dollars. Accompanied by youngest son David (Will Forte), he sets out to get his 'winnings'. And so begins a road-trip of family dysfunction, lessons learned and secrets revealed - in gorgeous, photo album black-and-white. Nebraska fits perfectly with director Alexander Payne's other travelling-and-thinking comedy-dramas, About Schmidt, Sideways and The Descendants, and, just like those movies, makes sure that the laughs and lump-in-throat moments are never too far away from each other.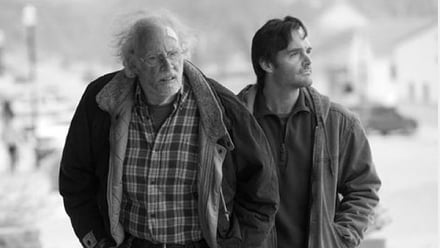 Bruce Dern and Will Forte
Dog Day Afternoon, 11:10pm, UTV
Al Pacino and his late, great Godfather co-star John Cazale unleash the magic in the much-missed Sidney Lumet's 1975 masterpiece. Based on real events and opening with a glorious Elton John track (Amoreena), it tells the story of Sonny and Sal, two criminally inept bank robbers with the most unusual of motives. Nominated for six Oscars and winning Best Original Screenplay, this is one of the must-sees of American cinema's golden era. So set the science television to record it and lose yourself later in its humour and heartbreak.

Sonny: "Is there any special country you wanna go to?"
Sal: "Wyoming."
Sonny: "Sal, Wyoming's not a country."