Broadcaster Gay Byrne celebrates his 80th birthday today and he says he's feeling "full of life, energy and gratitude" and is looking forward to "a decent cake."
Speaking to The Irish Independent, he said: "I can't stress the intense gratitude I feel for getting this far.
"I'm very thankful I am still in good health and have made it to 80. I don't feel 42 any more but I certainly don't feel as old as I am. I'm still full of life and energy."
His daughters, Crona and Suzy, have organised a get-together in Gay's holiday home in Donegal for the landmark birthday and he says he is hopeful there will be "a decent birthday cake."
"It should be a nice and quiet celebration. I don't like organising this sort of thing so have let them take the reins."
Byrne began his broadcast career with Granada in Manchester and went on to present RTÉ's Late Late Show from 1962 to 1999 and The Gay Byrne Show on RTÉ Radio 1. He is still on TV presenting The Meaning of Life on RTÉ One
He is currently preparing to step down from his role as the chairman of the Road Safety Authority.
Watch RTÉ's round-up of Gay Byrne shows here.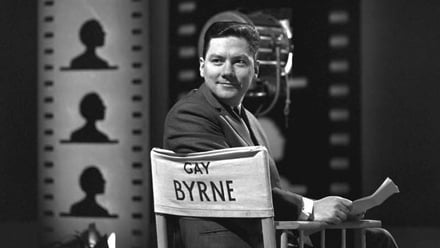 Portrait of the broadcaster as a young man.