Ed Sheeran attended his first cousin Laura Sheeran's wedding in Spiddal in Galway over the weekend and the musical entertainment on the big day included Ed himself, Bell X1 and The Walls.
Fellow musician and Galway native Laura (26) married keyboardist Marc Aubelle at Cnoc Suain, a renovated 17th century hill village `at the gates of Connemara', Marc performs with Laura in synth act Nanu Nanu and is also a member of Bell X1's live band.
Cnoc Suain posted this message on their Facebook page: "Smiles all round after the best wedding event of all time! Congratulations to Marc Aubelle and Laura Sheeran who got married here at Cnoc Suain over the weekend
" . . . and what a weekend it was!!!!! #EdSheeran here joined in on the celebrations along with other musical acts such as Bell x1 and The Walls#wedstock."
Check out Laura's bandcamp page.
The first embrace as a married couple at @cnocsuain at the weekend @laurasheeran #EdSheeran #wedstock #bestpartyever pic.twitter.com/u9EMaVqKof

— Cnoc Suain (@cnocsuain) July 29, 2014
Laura's own music has been described as a combination of PJ Harvey, Bjork and Enya. Along with Marc Aubele, she also performs as 'Glitterface', the front person and singer for synth act Nanu Nanu. She has performed with the group Fovea Hex and written music for film and theatre.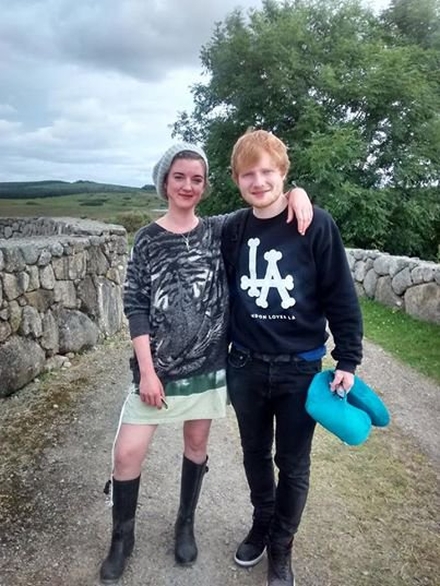 Ed and friend at Cnoc Suain over the weekend
Laura has supported Ed in Galway venue the Róisín Dubh and speaking about her famous first cousin she has said: "We see each other quite a lot, any time he's in town. I've seen how that whole world operates through him and it's so intense, I really don't know how people do it. I used to cross collaborate with Ed a lot before he was signed."