Director Zack Snyder has revealed the first close-up portrait of Ben Affleck as the Dark Knight.
The Batman V Superman: Dawn of Justice director unveiled the new photograph of a masked Affleck on his Twitter page yesterday (July 24) to celebrate the 75th anniversary of the Batman franchise.
The first full-body shot of Affleck as Batman was revealed by Warner Bros in May.
Snyder also posted a doctored image of Henry Cavill as a Jedi version of Superman to his Twitter followers, which shows the Man of Steel star holding a lightsaber.
Batman V Superman: Dawn of Justice will also star Jesse Eisenberg as Lex Luthor, Gal Gadot as Wonder Woman and Ray Fisher as Cyborg.
The highly anticipated superhero movie opens in cinemas on April 29, 2016.
#75 pic.twitter.com/Caj2N8iTAb

— ZackSnyder (@ZackSnyder) July 24, 2014
#SuperJedi pic.twitter.com/PyNbELK8UZ

— ZackSnyder (@ZackSnyder) July 24, 2014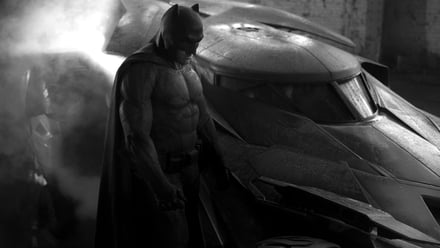 Image copyright Warner Bros Studios