Rachel McAdams was "in awe" of Lindsay Lohan when they worked together on Mean Girls in 2004.
The 35-year-old, who played Regina George in the popular movie high-school comedy, insisted that she wasn't intimidated by 28-year-old Lohan on set.
Speaking to Allure magazine, McAdams, said: "If anything, I was in awe of her talent.
"I looked at her as this experienced actor, and she had great comedic timing, so natural. It's just funny to hear that because you never know what people are thinking. We all try to act like we've got it together."
McAdams, who starred in The Notebook (2004) and Red Eye (2005), further explained that she would like to take on a variety of movie role in the future, saying: "I'm hoping it's going to be complicated and have lots of dead ends and corners and sharp turns. I hope it can't be summed up too easily when I'm done."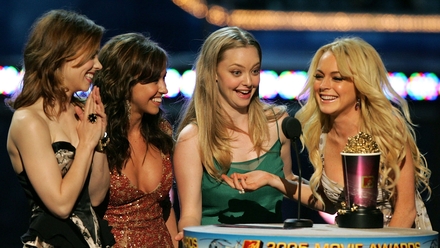 Actresses Rachel McAdams, Lacey Chabert, Amanda Seyfried, and Lindsay Lohan accept their award for Best Team onstage during the 2005 MTV Movie Awards at the Shrine Auditorium on June 4, 2005 in Los Angeles, California