The Mail Online has apologised to George Clooney over a story which claimed that Baria Alamuddin, his future mother-in-law, was against his upcoming marriage to international human rights lawyer Amal Alamuddin for religious reasons.
The Press Association reports that a Mail Online spokesperson said the story had been "supplied in good faith" but it accepted "Mr Clooney's assurance that the story is inaccurate" and had "launched a full investigation" into what happened.
The spokesperson added: "We have removed the article from our website and will be contacting Mr Clooney's representatives to discuss giving him the opportunity to set the record straight."
In a statement to USA Today, Clooney claimed that the report was "at the very least negligent and more appropriately dangerous".
Clooney wrote: "The Daily Mail has printed a completely fabricated story about my fiancée's mother opposing our marriage for religious reasons.

"It says Amal's mother has been telling 'half of Beirut' that she's against the wedding. It says they joke about traditions in the Druze religion that end up with the death of the bride. Let me repeat that: the death of the bride."
He continued: "If they fabricate stories of Amal being pregnant, or the marriage is on the set of Downton Abbey, or that I'm running for office, or any number of idiotic stories that they sit at their computers and invent, I don't care.
"The irresponsibility, in this day and age, to exploit religious differences where none exist, is at the very least negligent and more appropriately dangerous."
He added: "The Daily Mail, more than any other organisation that calls itself news, has proved time and time again that facts make no difference in the articles they make up.
"And when they put my family and my friends in harm's way, they cross far beyond just a laughable tabloid and into the arena of inciting violence. They must be so very proud."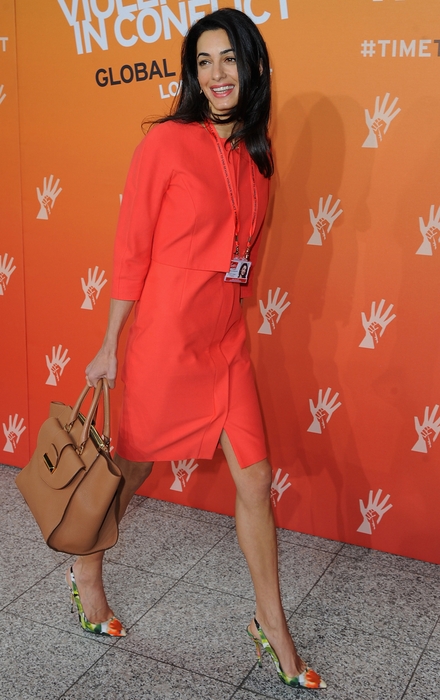 Clooney's fiancée Amal Alamuddin