Miriam O'Callaghan is back tonight at 9.40pm on RTÉ One with her summer chat show - see a pic of her guest line-up here!
Dublin-born actor Colm Meaney will be appearing to talk movies, TV, Italia '90 and life in the sun.
Comedian and impressionist Mario Rosenstock will be chatting about encounters with some people he mimics, while teacher and model Sarah Jane Dunne tells Miriam about being the first traveller to reach the finals of Miss Ireland.
Also on the couch, photographer Eric Luke talks about how his #myoldnegatives twitter meme has put his photographs on the map.
And Ryan Sheridan performs the song Brendan O'Carroll personally commissioned for Mrs. Brown's Boys D'Movie.
Watch Saturday Night with Miriam at 9.40pm on RTÉ One.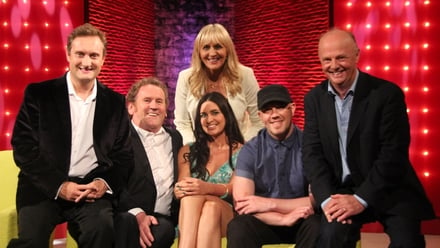 Miriam O'Callaghan with guests (L-R) Mario Rosenstock, Colm Meaney, Sarah Jane Dunne, Ryan Sheridan and Eric Luke.