Bradley Cooper and girlfriend Suki Waterhouse were spotted at Wimbledon yesterday (July 4) with Bear Grylls – see the pictures here!
It looks as though Bradley Cooper has a new bromance this Wimbledon with Bear Grylls taking the seat occupied by Gerard Butler last year, but sadly there have been no selfies yet.
The American Hustle star wore a black, three-piece suit while his model girlfriend Waterhouse wore a floral, long-sleeved crop top with a high-waist voluminous skirt.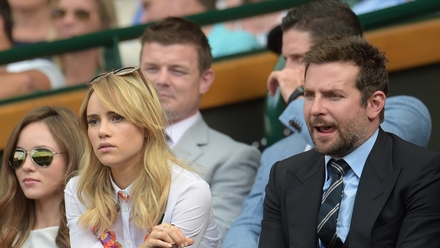 Waterhouse and Cooper were engrossed in the match...and there's our own Brian O'Driscoll right behind them!