It seems lovelorn tourists, and possibly even mushy ol' Dubliners, are following the lead of romantic Parisians and snapping 'love-locks' to Dublin's newest bridge as a sign of undying devotion to their loved ones.
Rosie Hackett Bridge, which opened across the river Liffey in May, is already becoming a shrine for Dublin city romantics.
Couples are immortalising their love by attaching a lock carrying their names to its railing and throwing the key into the Liffey.
At least six padlocks of various sizes were spotted by RTÉ Ten on the railings of Rosie Hackett Bridge this morning (July 3), making it the newest rival to Dublin's iconic Ha'penny Bridge which is already a site for `lock-locks'.
However, the Dublin bridges have a long way to go before they are anything like The Pont des Arts footbridge over the Seine in Paris, which is festooned with an estimated 700,000 padlocks left by couples since 2008.
A section of the metal mesh on the Pont des Arts collapsed in June under the weight of the thousands of "love-locks" attached to the bridge by couples.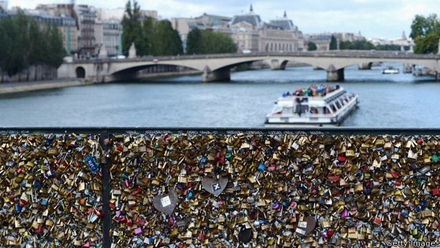 Amour fou - the Pont des Arts in Paris
The Dublin bridge is named after Rosie Hackett, who founded the Irish Women Workers Union (IWWU), along with Delia Larkin in 1909.
Rosie was also involved in the Lockout in 1913 and the Easter Rising in 1916.