RTÉ Newscaster Aengus Mac Grianna wed his fiancé Terry Gill on Sunday in the picturesque setting of Ballymacgarvey, Co. Meath.

The couple exchanged vows at a Humanist ceremony which began when Gill was walked down the aisle with his mum Eva, followed by Mac Grianna who was accompanied by his friend, and former RTÉ colleague, Anne Doyle.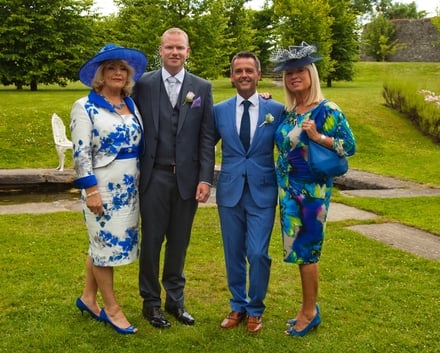 Terry Gill and Aengus Mac Grianna with Eva Gill and Anne Doyle
Over 150 of their family and friends joined the pair for their big day in Ballymacgarvey Country House and Estate in Balrath, Co. Meath.

A number of Mac Grianna's RTÉ newsroom colleagues were in attendance including Eileen Whelan, Eileen Dunne, Michael Murphy, Kate Egan and Teresa Mannion.
Also amongst the guests were Mac Grianna's fellow Celebrity Masterchef contestants; Tracy Piggott, Yvonne Keating and Maia Dunphy. 

There was beautiful music throughout the ceremony with Mac Grianna's long-time friend Moya Brennan, and musician Cormac de Barra, amongst the performers.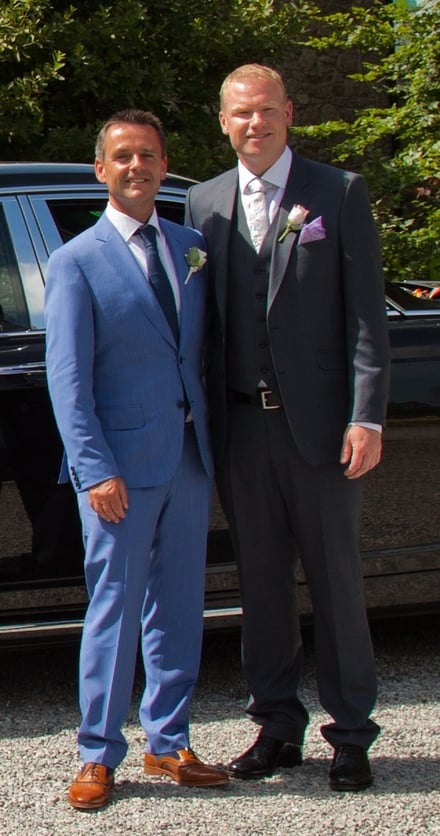 Aengus and Terry at Ballymagarvery House, Co. Meath 
At the end of the ceremony, the newly weds received a big round of applause and cheering from all those gathered.
In the coming days, the couple will travel to Greece for their honeymoon.
The pair will also have a "full marriage" or legal civil ceremony in the UK over the coming weeks.
Speaking to RTÉ TEN on Friday (June 20), about it, MacGrianna said it will be a: "…much smaller ceremony, a more personal intimate one." 
The RTÉ TEN team wish the happy couple the very best.
More pictures will feature in the RTÉ Guide, which goes on sale Monday, June 30.