It's a documentary, a do-or-die encounter and diner drama tonight.
No Limbs, No Limits
10:15pm, RTÉ One
If you missed its short run in cinemas, make sure to catch this documentary tonight. Mixing extensive home movies with footage from the RTÉ archives, No Limbs, No Limits follows Cork teenager Joanne O'Riordan from her family home to UN Headquarters in New York, where she delivers a keynote address. While piercingly poignant in places, the film is also very funny, with O'Riordan's quick wit a great reminder not to take this crazy thing called life too seriously.
2014 FIFA World Cup: Uruguay v England
7:30pm, RTE Two & 7:00pm, ITV
Who would've thought Spain would be out in just five days - and another big name looks set to join them tonight. Uruguay will have talisman Luis Suárez back for this all-or-nothing match, while England need a big game from captain Steven Gerrard, whose Lucozade Sport ad looked eerily prophetic last Saturday in Manaus; and Wayne Rooney, who should be playing in the centre and not out wide. This could be one of the games of the tournament.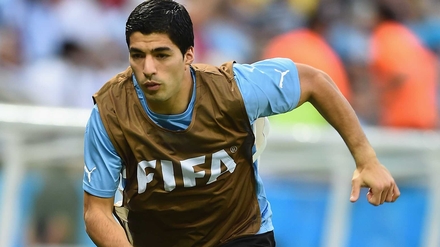 Celebrity Masterchef
9:00pm, BBC One
John Torode and Gregg Wise have dealt with plenty of famous faces, but if his Celebrity Come Dine with me performance is anything to go by, they've never had anyone quite like Ken Morley - aka Coronation Street's Reg Holdsworth - in the kitchen. Morley is competing against fellow actors Amanda Burton and Emma Barton, TV presenter Alison Hammond and former JLS singer JB Gill in tonight's episode. The quintet must use the Mystery Box's ingredients to create a burger and will then go to work in two London restaurants. The actors are in Spanish restaurant Iberica, while Hammond and Gill are at The Gilbert Scott. Finally, it's back to MasterChef HQ to prepare a two-course menu in 75 minutes. Given Morley's love of the camera, this could be telly gold.