Pippa Middleton and James Middleton have embarked on a 3,000 mile charity bike ride across America.
The siblings will take part in the gruelling race across America which spans twelve states, raising money for charities including the British Heart Foundation.
It's day two of the 3,000 mile race across America, and it is said that only a handful of women have entered the race and only 200 people have successfully completed the course in it's thirty year history.
Pippa is the sole female taking part in the challenge amongst eight other men. She will then continue to Istanbul to complete the 6.5km Bosphorus cross - a continental swimming race to help raise funds for life-saving research.
Pippa reveals what motivated her to join the cause: "I was shocked to learn that nearly three times more women die from coronary heart disease than breast cancer.
"I'm passionate about raising awareness amongst women of this killer disease and I look forward to working with the British Heart Foundation to highlight to women the risks of heart disease and more importantly, how they can reduce them."
Her bike will be auctioned on ebay, when she returns.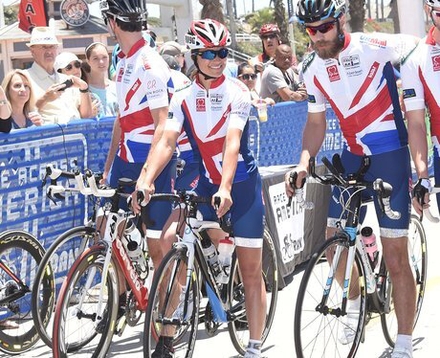 Pippa and James Middleton are currently cycling 3,000km across America to raise money for charity. Image c/o British Heart Foundation/Twitter