Bill Murray boosted his status as the funniest guy in Hollywood after crashing a couple's engagement photo.
The Ghostbusters star happened upon the newly-engaged couple in Charleston, South Carolina, and was invited to pose with them after he made them laugh by pulling his shirt over his own head.
Photographer Raheel Gauba told Good Morning America about the encounter, saying: "It all started with an innocent little engagement shoot in downtown Charleston with our lovely couple Ashley Donald & Erik Rogers.

"I'm looking through the lens, the couple seems stunned and distracted… I think to myself – oh great, someone is bothering them – I turn around and I see Mr. Murray standing there with his shirt pulled up and belly proudly on display which he is patting pretty loudly in an attempt to make the couple laugh.

"Needless to say I was stunned and I invited Mr. Murray to join the couple for a quick shot – He obliged and congratulated them and went on his way… leaving behind an extremely happy couple and this photo that will be forever remembered by this couple (and us!!!)."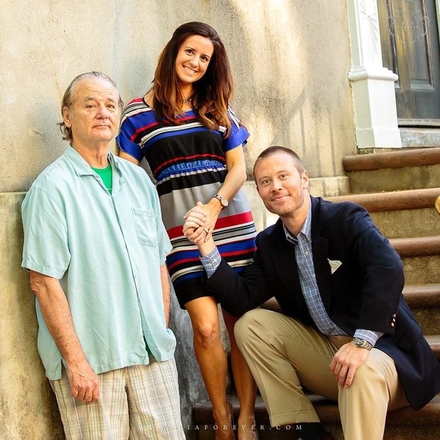 Image courtesy of Facebook/Fia Forever