Rik Mayall, the comic, actor and writer who brought joy to generations in The Young Ones, The New Statesman and Bottom, has died. He was 56.
A spokesman for Brunskill Management said that the star passed away this morning, June 9, at his London home.
Mayall was most recently seen on television screens in the British series Man Down and RTÉ's Damo & Ivor.
His other credits included Jonathan Creek, Filthy Rich & Catflap, Blackadder, The Comic Strip Presents and A Kick Up the Eighties.
He was seriously injured in a quad bike accident in 1998 which left him in a coma for several days.
He is survived by his wife and three children.
Actor and long-time friend Adrian Edmondson said: "There were times when Rik and I were writing together when we almost died laughing. They were some of the most carefree stupid days I ever had, and I feel privileged to have shared them with him.
"And now he's died for real. Without me. Selfish b*****d."
Paying tribute, David Walliams said: "I am heartbroken that my comedy idol growing up, Rik Mayall, has died. He made me want to be a comedian."
Rory Bremner said: "Awful news about Rik Mayall - a fireball of creative comic energy and inspiration. Such brilliant raw talent."
Blackadder producer John Lloyd told BBC News that Mayall was "just extraordinary".
Watch some classic Rik Mayall moments at: http://bit.ly/UoodSC.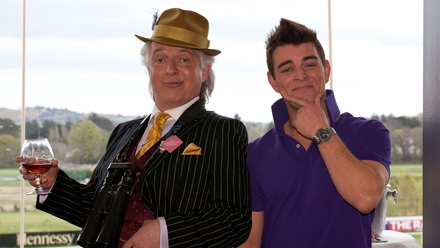 Rik Mayall with Andrew Quirke in Damo & Ivor