Kim Kardashian and her husband Kanye West have flown out of Cork Airport at the end of their honeymoon in Ireland.
The couple and their entourage are reported to have arrived at Cork airport in a black bus and black limousine and were taken to their private jet via the cargo area terminal.
The newlyweds boarded the jet in front of the old airport terminal at an area hidden from public view.
During their week-long honeymoon in Ireland the couple stayed at a luxury hotel in Ballyfin, Co Laois.
Their private Lear Jet apparently touched down in Cork airport on Sunday (May 25), the day after their lavish wedding celebration in Florence Italy, yet it took until Wednesday evening (May 29) before any photographic evidence emerged of Kim Kardashian and Kanye West on Irish soil. 
Kimye Watch reached fever pitch yesterday evening when eagle eyed locals spotted the A-List pair coming out of an Odeon Cinema in Portlaoise where they reportedly watched X-Men Days of Future Past in 3D.
Later in the day Mr and Mrs West apparently made a 20 mile trip to Tullamore to watch another film. 
The couple were both wearing sunglasses and dressed in black - with Kanye wearing the hood of his jumper over his head.
Don't forget our competition to win one of two pairs of tickets to Kanye West's gigs in Marlay Park. Just tweet us @RTE_TEN where you think Kimye should visit while in Ireland. You must include the hashtag #KIMYETENCOMP to enter. Full details here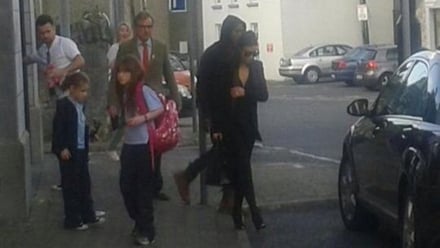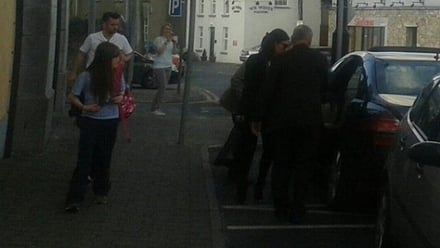 The pictures have created a buzz online with many expressing their disbelief at the potential sighting.
Manys the date I went on to Portlaoise and Tullamore cinema back in the day. Doubt #Kimye had to be home by half 11 ...😎

— Jennifer O'Brien (@JenBizarre) May 29, 2014
Yep ya got it spot on there Kanye! Coz if I married Kim Kardashain I'd spend the Honeymoon sitting in a Cinema in Portlaoise. #Kimye

— Dustin The Turkey (@DustinOfficial) May 29, 2014
#Kimye are some clowns turning up in Portlaoise they obviously didn't know that @gaaleinster 21 match was in Parnell park not O'Moore park

— Oisin Langan (@Langanator) May 28, 2014
So #Kimye are spotted in Portlaoise the day the @RoseofTralee_ regionals start? She knows she's too old to enter the Rose right?

— Róisín Fitzgerald (@roisinfitz81) May 28, 2014
Another pic of Kim getting into the car to prove #Kimye were in Portlaoise. Katie Ronan took the snaps pic.twitter.com/BVJLlYRkFD

— Alan T Cawley (@alantcawley) May 28, 2014
#Kimye were in Portlaoise cinema? Well, I wouldn't expect them to appreciate the great drying that was in it today...4 loads I got done!

— Lisa Ní Chuinnegáin (@missdribbles) May 28, 2014
Why in the name of #yeezus would ya stop off in Portlaoise on your honeymoon #Kimye

— Ciara Purcell (@CiaraKate92) May 28, 2014