Spoiler alert! Game of Thrones author George R.R. Martin has said he squeals reading the episode outlines as people who are still alive in his books die in the TV adaptation.
Martin, who is known for killing off major characters regularly in his books, has emphasised that nobody is safe on the hit HBO drama, not even the characters that he has kept alive, as TV writers Benioff and Weiss sometimes decide to take things in a new direction.
Speaking to chat show host Conan O'Brien, Martin said, "As bloody as I am, David Benioff and Dan Weiss are always turning things up to eleven. So really, no one is safe.
"Even the book readers who say, 'Well, this character is safe, he's not in any trouble because he's still in book five,' may have an unpleasant surprise."
He added, "I do kind of squeal a bit when I get the outline, 'Wait a minute, wait a minute, he's not dead in the books, he's still alive in the books'."
Those who are not up-to-date and wish to avoid spoilers, look away now!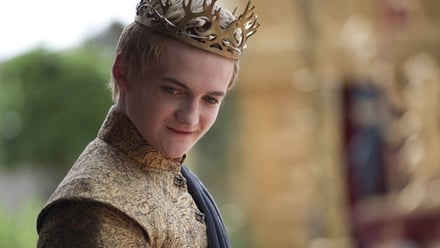 Jack Gleeson as King Joffrey
Following the death of King Joffrey in the current season, Martin commented, "I killed him years ago in the books so at that time, we didn't actually have an actor playing him. Jack Gleeson who played Joffrey was the nicest guy in the world.
"I think it's a good thing that I wrote the books before we started making the show because when you make the show and you actually meet the actors, then it's harder to kill them."
Game of Thrones continues on Sky Atlantic, Mondays at 9pm.