Jennifer Lawrence has spoken about her relationship with Nicholas Hoult saying he has a beautiful face and a unique mind.
The X-Men: Days of Future Past co-stars first started dating when they met in 2011 on the set of X-Men: First Class and in a candid interview with Marie Claire, Lawrence opened up about her relationship with the British star.
When asked what she looks for in a partner, the American Hustle star said, "Looks can go pretty far. Nobody can deny a beautiful face. Fortunately, I have one." Lawrence then realised how that sounded and continued, "Oh, no! I mean my boyfriend! I didn't mean my face! Oh my God, I meant I'm with somebody who has a beautiful face."
She added, "Humour and intelligence are key. Looks fade very quickly. I love a unique mind. Somebody who's his own person."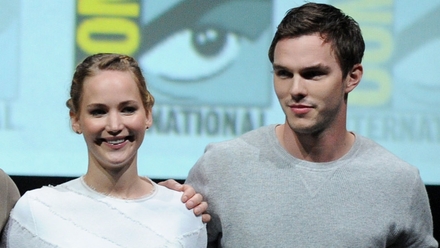 On juggling their relationship with their busy careers she commented, "It's hard when you're both working. It's important to keep your individuality when you're a couple and keep your own life. When we're busy, we agree to mutually ignore each other. Not completely, but neither of us gets mad when the other doesn't text back or call. Life's super-busy. Obviously you know what they're doing, and you trust them.
"We're so young that it would almost be like if we lived in the same city, what would happen? We'd be living together. At least this way he's in the same boat as I am – we can both go out and have our own lives and know that we have each other."
X-Men: Days of Future Past is in cinemas from May 22.