Ireland's Eurovision entry Kasey Smith yesterday got support from previous competitors Jedward who are in Copenhagen for the competition.
Can-Linn featuring Kasey will perform Heartbeat in the second semi-final of the competition which takes place tomorrow night at 8pm. They are hoping to secure a place in Saturday night's grand finale.
The two time Eurovision finalists offered advice to the singer telling her "you have to own that stage and go out there and work it like Beyonce!"
Last night ten countries booked their place in the final with Montenegro, Hungary, Russia, Armenia, Azerbaijan, San Marino, Ukraine, Sweden, the Netherlands and Iceland all progressing in the competition.
Albania, Belgium, Estonia, Latvia, Moldova and Portugal missed out on a final place.
You can watch the second semi-final tomorrow night on RTÉ Two at 8pm where Marty Whelan will be guiding us through the competition.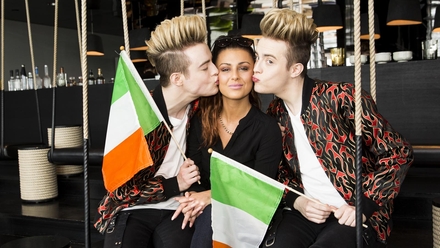 Check out Kasey Smith and Can-Linn's Eurovision outfits below.
Leading Irish bridal designer Kathy De Stafford made Kasey's gold gown which features a fitted embroidered bodice and sheer tulle skirt.
There are thousands of beads on the dress, and every single one was hand sewn individually, while the tulle skirt was spray painted gold to match the bodice.
Kasey's dramatic neckpiece was made by Irish designer Oliver Doherty Duncan, who previously made neckpieces for HBO's Game of Thrones. Oliver is currently working for Warner Bros on the new Peter Pan film and is based in London.
The girls' jewellery was made by Blaithin Ennis, who won Jewellery Designer of the Year at the Irish Fashion Innovation Awards 2014, while the lads' kilts were designed by Kevin & Howlin who are based in Dublin.